Deceased
interview by - Wouter Roemers

Forever underestimated, but never equalled or surpassed. Deceased is one of the original death metal combos from North America, but one that never really became a household name in the traditional sense of the word. With the release of the masterful "Surreal Overdose" and the recent re-issue of "Supernatural Addiction" through Hells Headbangers Records, it was time to finally focus on a band that just doesn't nearly get the recognition and attention it deserves. With a lenghty career and a number of veritable classics to their name it was only a matter of when we could fit an interview into these vaults. Masterful Magazine was able to secure a chat with Deceased frontman Kingsley 'King' Fowley (vocals, drums). Truly few frontmen are as a consummate professional as this guy; King is cordial, talkative and very approachable with obvious love for what he does. Fowley waxes nostalgically at length, without any reservations or hesitation with no topics being off-limits, about the band's small beginnings, their deal with Relapse Records and how misfortune has shaped much of their career. The Fearless Undead Machines are here...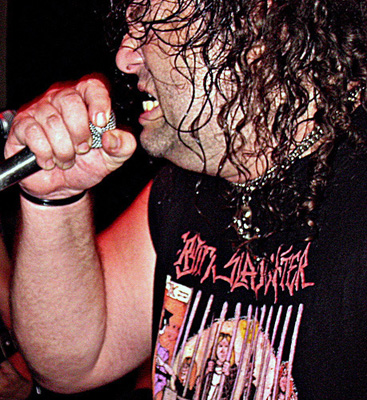 Hello, King! Let's start with the humble beginnings first. How was it forming the band in 1985? Describe to us how the scene was in Arlington, Virginia and its neighboring regions at that time in term of supporters, bands, venues/promoters, etc.?

Cheers to ya! Well, I'd been a big fan of music since I was pretty much an infant. My mom's sister got me into The Beatles about 1972-73. I'd go to her house and go through her records all through the 70s. She was your average record buyer of the 70's and had things as varied as Fleetwood Mac to Grateful Dead to Simon and Garfunkel to John Prine to Elvis to the Beach Boys. Nothing too 'heavy'. I loved looking at the covers and spent a lot of time just playing records complete and noticing how records had a lot of styles to it. Long songs, short songs, musical songs, simple songs. To me this was my first lesson in song writing and arrangements. The radio got me hearing it all. Pop, rock, disco, country - all of it. I seemed to really take to the heaviest stuff.

In about 1976/77 I was at the grocery store with my mom when I wandered over to the magazine section and saw this guy with blood all over him and a guitar. It was Gene Simmons. This spooked me out, but intrigued me. I had to know more. A little time passed and one day I was at after school recreation. I went there because my mom worked until 5 and couldn't pick me up after school. I mentioned KISS and the young guy taking care of us knew all about them. He told me his buddy had the records and gave me a note to leave the school grounds and go get a record. I handed the note to this guy Victor Meyers and he handed me "Destroyer" from KISS. I took it back to school looking at the creepy cover with KISS floating in hell it looked like to my 9 year old mind. We played it and 'Detroit Rock City' really got to me. It was powerful and fantastic. I loved it. I became KISS obsessed and went out and begged my mom to buy me records by them.

This lead me to know I loved the heavier rock 'n roll stuff. I learned about Led Zeppelin and Deep Purple and Black Sabbath through magazines and the more album orientated radio stations. I got into stuff like Nugent, Heart, Van Halen, Aerosmith, etc I didn't really know any kids around into this kind of music, except two buddies my age. We were all learning together. This was about 1980. We all found Rush, Ozzy, Kansas and Black Sabbath together. That's kind of where they stopped.

I knew that rock had harder stuff still and wanted to hear it bad. This got me to search out Judas Priest, Iron Maiden, Motörhead and a lot of punk rock stuff which had the craziness like Plasmatics, The Ramones, Dead Kennedys and the Sex Pistols. My friends were finding this a bit heavier then their tastes but not me. I just kept on going! What really changed my life and was a great help was a local radio station had a show called 'midnight Monday metal' that played full records by up n' coming metal bands. I'd religiously listen every Monday at midnight and pop my tape player in and tape them all.

I found Anvil, Manowar, The Rods, Twisted Sister, Motley Crue, Y&T, Triumph and many more. It blew my mind. Put this along with discovering England's 'Kerrang' magazine and this is what got me going. I kept searching out stuff at local record stores. Digging deeper in the bins then right up front. I discovered Bitch and Warlord and the "Metal Massacre" series. I was addicted!! I'd been in a short-lived band in 1980 called Slack Tyde with a few friends, but it was basic stuff for fun more than anything. I played bass. Now it was 1984 and I was trying to put a band together with locals. My good friend of the time Marcel was a good drummer and my other buddy Jamie was a good guitarist. We tried to spew out a demo under the moniker Messenger in 1984. It was called 'Fuck off'! we were pushing the Twisted Sister 'over the top' madness. The band fell apart. Jamie lost interest and me and Marcel dreamed more than played for a while.

Around late 1983 a guy named Doug Souther showed up at my house in a Bad Company shirt, a friend from school of my girlfriend. He didn't know a lot about metal music yet and me and him bonded. He picked up guitar and got quite good real quick. We would spend a lot of time together working out song titles and the perfect band name for us. We were still dreaming along with Marcel, who now had a full-time girlfriend that seems to sputter his music love down a bit. We'd go to shows and see Anthrax and Raven and Queensryche and Twisted Sister. Wed always want the newest, heaviest bands outs material. At one of these shows we met Mark Adams. He too played guitar. We knew we wanted a 2 guitar attack like our idols Maiden, Priest, etc and we asked him to join on. He was the talented one of the bunch. He'd played longer, had good knowledge of the guitar and had to sort of 'dumb down' to us to make things happen.

We were off with me on bass, vocals and Marcel on drums. Short-lived names like Mace and Mad Butcher were quickly replaced with Deceased, to me the perfect name for us and our heavy, fast over the top ideas! Marcel bailed out. We now had no drummer! I told them I could do it. To this day I still don't know where it came from but in my little brothers room was a little three-piece half-ass drum kit. I dug it out and beat on it. I learned how to keep a rhythm. We learned songs by Slayer and Voivod and Sodom. We started writing originals. There were no local bands to show you how. No people locally to 'look up' too. It was us!

At War was a Virginia band in the speed metal realm, but they were many hours away from us in southern Virginia. We just did our thing. We played early shows at drug parties locally in backyards and basements with no vocals or bass, while we decided who was going to sing and who the hell was going to join to play bass etc. folks didn't know what to think of us. A lot of people cringed, others encouraged us, Some called it punk! After a few shows I told them I'd sing and we'd be like Exciter. It took time to do both but we just kept on smashing away. One night at a party a friend of ours was playing some Kreator on an acoustic guitar. We never knew he played. We asked him if he played bass too and he said 'sure why not!' and that was that. Rob Sterzel was aboard on bass. We wrote 9 originals and recorded them in the late summer of 1986 in a friend's attic. No one knew of us yet but we were coming and learning and ready for the next step!!!!

The band went through a jumble of names including Mad Butcher and Evil Axe before settling on Deceased. Was it because that moniker was succinct, clear and to-the-point or are there any personal anecdotes connected to the choosing of that moniker for the freshly formed band?

We just looked in books and brainstormed stuff looking for the perfect name. Something might of sounded good at the moment but then it didn't later. Deceased I came up with knowing that I loved to write about death and the fork in the road down beat stuff of the world in my lyrics. It just fit perfect!

In 1986 the "The Evil Side Of Religion" demo tape is released independently. It was recorded in the attic of a friend, John Reed, on a 4-track mixer for $20 and a case of beer. The credited producer was Brian Anderson. The artwork was a depiction of Kira Schönn (Night Of the Living Dead). I remember reading that Anderson didn't have much experience in producing bands. The tape was handed out for free. Are there any particular stories that you recall from these very first recording sessions – how was the fan reaction to the first music of Deceased?

Brian owned a mixer and that's all we knew. We set it all up and went for it. We just wanted to hear how it sounded on tape. Boom box rehearsals we had done, but we thought it was going to be a world of difference with a mixer. Well, it wasn't. One channel didn't work properly, so it was more a 7 ½ track recording. The snare piece busted 3 songs in, so without any money we taped aluminum foil to the bottom of the snare to make the snare sound. We taped the microphones to the drum cymbal stands and a lot of time the recording would have 'kick back' from me hitting the stands which would shake the mic and put odd sounds over the recording. We were all about 2 feet from each other, so it bled through everything. What we got was a wall of noise, but it was our wall of noise.

I dibbed the vocals later at my house on my home-stereo. I sang through an echo box and a distortion pedal too. I screamed my ass off and wanted to be as over the top as I could. I called my vocals 'the throw up box'. There's actually a tape that only Doug has of a first take of vocals. I redid them all later that night as I didn't like the first run through. We grabbed the "Night of the Living Dead" art from a magazine and called it "The Evil Side Of Religion" because to us a lot of people were living for the Lord or living for the Devil and to us we were neither. We had no gods, no masters. So, to us religion in general was just a bad idea and led to a lot of despair in the world in a lot of ways.

We decided we'd seen enough bands ripping folks off with $8 2 song demos etc and we'd just go steal blank tapes and dub 'em off and give it to anyone that wanted a copy. We had local girlfriends and 'runners' who'd pass out flyers or staple flyers to convenient store walls promoting this free tape. The response was insane. We knew 'free' would be wild. But by the end of the year we promoted that demo we'd given out well over 2500 demos. I was doing the pen pal thing, trading demos with folks. We got a good name immediately for giving free tapes out. It showed our heart was in the right place. I made a lot of pals through the mail and my mom would get stamps from her work and help me with postage costs too.

Reviews ranged from 'this tape sucks' to 'the best death metal release ever'. We just kept on keeping on and thanked folks for good, bad or otherwise reviews. The demo had 3 covers in the end. I probably got bored of looking at the same cover and switched it up. I had tons of "Dungeons and Dragons" books I'd found somewhere and would just take pics out of it. I didn't play it or anything, I just liked the art. And that would become the demo cover from then on out for a while.

By 1987 the first blow to the band was dealt. King, you developed a substance abuse problem. The heavy drug use caused anxiety attacks, nervous reactions. You were constantly feeling sick and rundown. You were in and out of hospitals regularly due to drug-related incidents. What was the impetus behind the substance abuse? Was it due to personal problems or due to the freewheeling lifestyle the band had brought?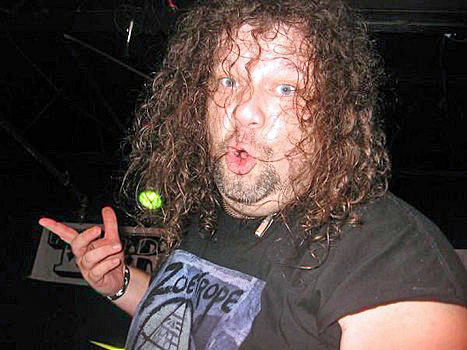 I do everything to the fullest. Always have, especially as a teenager. Immortal! Nothing can stop me! Let's 'go for it' attitude. Well, it ate me up. I got addicted to drugs heavily. Cocaine being the worst of the bunch. I'm already a very hyper person and the amount of cocaine I was doing daily for about a good 3 years just really ripped into me. I never slept. I never rested, it was "GO-GO-GO!". Between that and other drugs like PCP, pot, LSD and whatever else we'd get hold of -- I was a time bomb ready to blow.

It all hit me one day in my girlfriend's car. I thought for sure I'd OD'd on cocaine and was going to die then and there. Somehow the 240 beats per minute heartbeat, the convulsing in my body and brain hour-long nightmare passed. I never touched cocaine again. 2 weeks later it happened again and now I thought 'its not cocaine, it's ME!'. I quit pot that day and never touched any bit of drugs again. This was early 1987. My withdrawals and recovery took a long while. I went into recluse and my family rebuilt me along with my passion to be healthy and alive to play music in my lifetime. I never used drugs as a crutch or to hide something. I did drugs because we were heavy metal maniacs. We thought drugs are part of it! Sex, drugs and rock n roll forever!!! So it happened. It got me good and fucked my body and mind up.

I haven't had an illegal substance in 26 years come 2013 and still my nervous system is a mess. Drugs are the pits! I look back and wish I never did them. I also look forward and know I learned from them and beat that poor judgment time in my life.

To straighten yourself out, you took nine months off to rehabilitate, including going through withdrawal symptoms. In that time there was little to no contact with friends, family, the band, etc – to get your life in order again. When you got back on your feet, how did the band react to seeing you again after almost a year?

It was amazing. I was somehow a better drummer. Not sure if it was thinking clear, being revitalized or a combination of it all. My mom was proud of me and helped me get a new drum set. I hadn't seen a kit or jammed at all in 9 months. We got right to it, and kicked ass! I was so excited to be back. We all were! It was like the world's biggest weight was lifted on my back and I could fly free again! The guys had waited for me to get my life in order and were rewarded with a healthy me and a new outlook on making this band a special one.

In 1988 tragedy strikes the band again in March 1988 when bass player Rob Sterzel, along with two friends of the band (Doug Souther's brother Steve also died in the accident along with Larry Ruscio), was killed in a hit and run incident. Stopping his car to change a flat tire the three friends were mown down by a van driver. Needless to say the media had a field day when it was revealed Rob's band was titled Deceased. Another friend named Sean Lawrence was injured. This must have been a considerable setback.

This literally happened the day after our first jam back! Rob didn't make the first jam due to having college that afternoon. We talked on the phone for a few and talked about how the band was back, better than ever. We couldn't wait for him to jam with us in the next coming days. That night Doug and Rob and the others went out to celebrate. I actually stayed home as I was still recovering physically from the withdrawals. I had lost over 50 pounds from not eating much and was worn out from jamming that day. Mark was supposed to go with them too but he missed then the first time they came by to pick him up by minutes. They headed to Robs to hang out and celebrate. They never made it!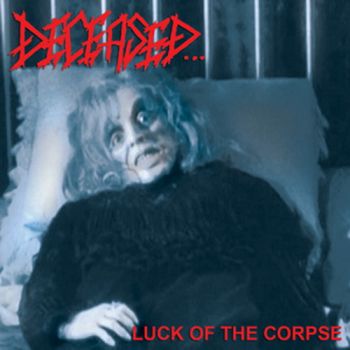 A flat tire pulled them over on the side of the road and after they all got out to fix it a van sped over a blind hill and ran them over. Doug had gone around to the glove box to get a flashlight and heard a noise. It was the van striking them all. He ran after the van which didn't stop but it was long gone. He kept seeing dead friends and his brother along the way down the street. I was up on the phone very late when my sister came in and on her phone line was Mark.

I took the call and he told me he had watched the news and saw that Doug and the others had been in a car accident. He had gone to Doug immediately. It happened by Mark's house. I went into shock then and there. It blew me away. The next morning Doug came by my house and was a mess. By now the person responsible had turned themselves in. it was an old Asian man who said he saw his van messed up in the morning and saw the news report. He later pleaded that carbon monoxide poison in his van had altered his thinking.

The local news did have a field day, claiming they were all heavy metal guys and this and that. The band name didn't help either. Sean later said he saw the van come over the hill jumped to avoid it and was caught by the legs by it. It almost took his legs but a few surgeries and time really helped him have a somewhat good recovery. A few weeks after Doug said he wanted to go on with the band and we thought it was best too.

We love and miss Rob but me knew he'd want us to go on. Doug never recovered from the event. It would be hard for anyone too. It changed a lot of his outlook on things I noticed after and to me really killed his spirit to be in the band too much longer. He really went through a lot that awful night!

1988 sees the release of the "Birth By Radiation" demo tape. It was recorded at Inner Ear Studios in Arlington, Virginia with Don Zientara. This is the first record to truly have a concept/storyline. The artwork was drawn by Tom Harrison. The tape sold around 2000 copies. How did you find out about Inner Ear Studios and producer Don Zientara? What do you recall from these maiden recording sessions in a full-blown professional studio?

We eventually started writing more songs and played our first show back as a three piece without bass. Oddly enough very close to where the accident happened. This is where we met Les Snyder. A little Asian kid with hair for miles. Tiny and into it as all night he jumped off our amps while we played. A mutual friend told us he played bass. We invited him to jam and loved him from the get-go. We wrote more tunes with him right away. He was a few years younger but had the right mindset to fit in.

We wrote like possessed metal warriors. I decided the demo tape was going to be called "Yuk". A real in your face 'gross' recording. But literally somewhere right after decided against it and went into writing a concept called "Birth by Radiation" about nuclear pollution, the dead returning to life and how the living are probably the worst problem of it all.

We wanted to improve the sound and go to a proper studio. We didn't know anything about this and looked into local bands sort of on same page as us. From Bad Brains, Minor Threat and the D.C punk scene we learned of Inner Ear Studios. We called, made an appointment and set up to record at his basement studio in Arlington. Don was a great guy from the get-go. Friendly, funny and really let you do your thing. He saw my snare head was trashed on arrival and gave me $10 to go buy a new head for it as he said I could only 'eat cereal on that one'. We were all learning.

We cut the demo in a weekend's time and it was done. Now I could hear the difference. We had been in a drum room for my parts and guitars elsewhere. We learned about wearing headphones and separation of the instruments. We were pleased with the outcome!!! We decided to sell it for $5 to get 't shirt money for the band' and really get out and play our ass off as many days of the week as we could.

I sent it around to the same folks as the first demo and folks could hear the tunes better and a lot of good reviews came in. A few magazines and folks claimed it the 'demo of the year' in 1988. We were pleased, but knew it was just a start to what we had in mind. We kept on writing more tunes to fit the concept we wanted to expand on and played out live fine tuning our craft. It was great times and a real learning experience for us all.

A year later, in 1989, the "One Night In the Cemetery!!! - Official live demo", was recorded in May 21st 1989, at The Banana, Pittsburgh, PA. The artwork depicts Angus Scrimm, The Tall Man from "Phantasm". In what ways is this one more "official" than the live recording from "Day Of Death" event that was released earlier?

This was our first travel shows. We drove 4 hours to Pittsburgh to play with Dream Death. That became our second home and we wanted to celebrate and salute it with a live tape, so we put it out. It was a nice soundboard recording and we played very inspired and well. We sold it to make more money to buy shirts of the band and gas for shows. The "Day of Death" didn't happen 'til 1990, so that was still to come.

That same year, in 1989, the "Nuclear Exorcist" demo tape is released. It was recorded at Inner Ear Studios in Arlington, Virginia with producer Don Zientara. It sold around 2000 copies and leads to gigs/festivals with Morbid Angel, Sacrifice, Prime Evil, and Immolation. How do you recall these days – it must have been a blast, being a demo band and already sharing the stages with all these up-and-coming bands?

For me "Nuclear Exorcist" is our best demo. The sound is rough and not the best due to using an engineer on drugs and kinda half-assed as Don couldn't do the time frame we had for it. But the songs are fantastic. I really enjoyed the times creating songs like 'Shrieks from the Hearse' and 'Planet Graveyard'. We were jamming almost every day and the songs seemed to just flow out of all 4 of us. We were now East Coast club live regulars on stage and we were getting asked to participate in big events like the Michigan Death Fest with Morbid Angel, Sacrifice, etc. We felt we'd earned it and went and delivered our style of mayhem to our best ability. It was fantastic to be moving up, up, up yearly and we were really in check and grounded to continue the band's progress.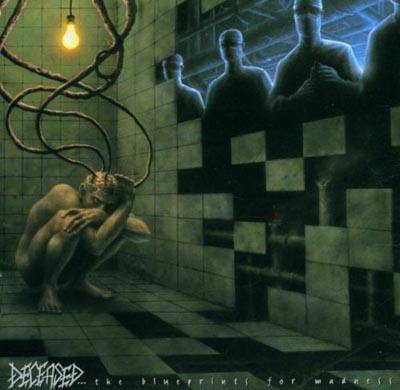 By now Deceased had been around for a few years and a couple of demos under its belt. Were there many opportunities in regards to regional shows at that point? Could you give us a brief overview of the highpoints, lowpoints and challenges you faced during these early demo days? What do you recall from the earlier days of the Virginia/Arlington scene - were there any events or happenings that stand out in your memory?

We still were one of very few local 'metal' bands. A couple more basic thrash ones had surfaced. They had more in common with Metallica then our brand of death metal madness. We made friends with a lot of punk bands and did a lot of house parties locally with them. Fields, beer parties, barns, etc. Eventually one of these bands got us a club gig with them and off we went.

We did our first club to a few folks and this is when we learned you have to promote your shows or no one knows about them. We went into heavy promotion mode and it turned into insanity quick. We'd pack the places on Thursday nights, Sunday afternoons. The 'bad' spots at clubs. We were given chances to book our own on the 'good' Saturday night and really impressed clubs. Our following became insanely strong locally. People dug it. We were all the same age and we were all in this together.

We'd rent out community centers and American Legion halls and grab our buddies and their bands and have blasts. Even the older local more hard rock bands pushing on to 'make it' were shocked at how far we had come so fast. We just did it! No bullshit, no excuses. We just set up gigs and went and did them. We treated people fair and wanted that in return. We'd bring out of state friends of ours like Ripping Corpse or Revenant down and introduce our crowd following to other bands. In return they'd take us to their hometowns and do the same. It was fantastic!!!

The many gigs and festival appearances were key in signing with the then-emerging indie label Relapse Records. Deceased was one of the first bands to release something on that label, together with Suffocation and their debut "Human Waste" EP. In what ways was Relapse the ideal label home for Deceased at that point in time?

I had known Matt (the owner) from being pen pals. He use to tell me how much he loved the band and how he wanted to form a label and have us on it. We had sort of sent our stuff around to labels, but not really. We were really more into the live thing at this point. Nuclear blast had shown interest but our guy that wanted us had died out of the blue along the way, so that fell apart.

When Matt offered us a deal I wanted to go for it. They were unknown and hungry and so were we, perfect match in my eyes. I don't think Doug agreed. But Les and Mark did so we went for it. Matt had moved West Coast and was only a couple hours away in Pennsylvania, so we took a drive and met him and partner Bill and we shook hands and that was that.

1991 sees the release of the "Gut Wrench" EP. Once again it was recorded at Inner Ear Studios in Arlington, Virginia with producer Don Zientara. Was this EP a cost-effective way to see how the audiences liked Deceased's music – or was there just not enough material at hand to produce a full length?

We had remixed 'Planet Graveyard' for a Combat Records offshoot label death metal release compilation that never surfaced, so it was 'lying around'. Relapse offered us the single and we decided to put this on it along with some live b-sides. The label brought out the 'gory' cover and we left it alone – though, it was never to my liking. They wanted to get a product out of the band as soon as possible! They were young and excited and so were we so we all kind of just jumped on it all.

Later in 1991 the band's proper debut "Luck Of the Corpse" is released through Relapse Records. This time it was recorded at Oz Studios in Baltimore, Maryland on 24 tracks with Frank Marchand. The artwork was a scene lifted from classic horror movie "Black Sabbath". What led to the termination of the working relation with Inner Ear Studios – were the recordings not satisfactory enough, in your view?

The recording came to be from Mark having college classes and internship with a guy named Frank Marchand. He sort of talked Mark into us going there and we went with it. It was a very nice studio and we were paying for the recording ourselves as Relapse had no real money yet to pay the recording. We paid in payments and did the graveyard shift thing all of October 1990 in Baltimore Maryland, about an hour from where we lived. Doug, I think, by now was feeling like his vision of the band wasn't the same as everyone else and it was obvious when we did the record he and I weren't getting along a whole lot. We both saw it differently and that kind of conflicted it all. We got it done and I'd say both 'halfheartedly cheered it's finish as the two of us both wanted it a certain way, yet settled for half a vision instead of all of one. Inner Ear had done nothing wrong to us. We just wanted to try another studio and felt it was the proper time.

Four years later, in 1995 "The Blueprints For Madness" is finally released. It was recorded at Inner Ear Studios in Arlington, Virginia with Don Zientara once again. The artwork was rendered by Wes Benscoter. Who's idea was it to hire Benscoter – was that a proposal from the label – or did you hook up with him yourself?

Relapse brought in Wes. He had some art and I kind of said 'something about experimentation in it' and he gave us the art. By now Mike Smith was a full member replacing Doug for 4 or so years on guitar. Doug left right after the debut due to musical differences. We were writing our first full-length with Mike now. We had done the "13" EP two years prior at Inner Ear which introduced Mike to the world. Frank Marchand helped on that and came down our way as we didn't like at all the hour drive to Baltimore on the "Luck.." sessions.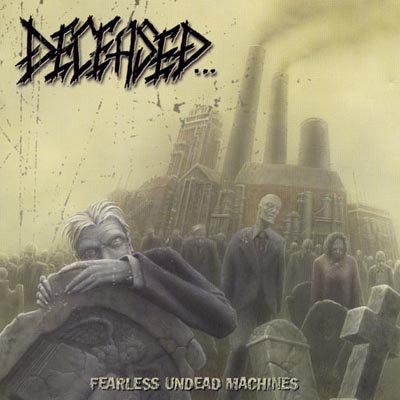 Inner Ear was now a full studio in a big warehouse. Huge rooms and really state-of–the-art gear for the time. The album was full of wild ideas and the 'kitchen sink' production was all handled by us 4 with Don more engineering then producing. This turned out 'odd' to say the least. Everyone heard everything different. We'd turn knobs one way then the other. The end result is a wall of muddy noise with little production skill. I love the record and the songs but the production leaves a lot to be desired.

1997 sees the release of "Fearless Undead Machines". This was the first album to be recorded at Oblivion Studios in Upper Marlboro, Maryland with Mike Bossier. It was a concept album based on George A. Romero's The Living Dead trilogy as well as other famous "zombie" movies. The artwork was rendered by Wes Benscoter – his last painting for Deceased. What prompted the change in studios?

Well, Mike was a friend in a local band called Oblivion. He told us he had a studio and we went to it and it was a basement thing, but it was friendly, well priced and we thought we could work in the surroundings with ease. We cut a demo there and liked what we heard. We arranged with Relapse to bring in a metal producer. They gave us Jim Barnes. We had no idea of him, except his work on other Relapse roster bands. I talked with him via phone and sent him the demo we recorded prior to the record. He got on a plane from the west coast and spent 10 days with us. An odd character with a lot of crazy ideas and really minimal knowledge of the recording process, I thought.

Luckily by now I was learning the ropes and figured whatever he could send off course I could redirect properly. Which indeed was done! The LP concept was a return to the concept touched on demos #2 and 3. I wanted to do a whole storyline album of it and we spent a year writing the record in my basement of my house.

To what would you contribute the deterioration of your working relation with long-time artist Wes Benscoter? For a good while he seemed to be the signature artist for Deceased and many Relapse Records artists.

He was very unprofessional. He never painted what I asked from him for on the "Fearless..." cover at all. We went back and forth and he just kept painting what we wanted. He never took my cover idea at all and worked with it. He couldn't paint it in my eyes. He could do several things good and stuck to them in all his paintings. I didn't like his 'my-way-or-the-highway' attitude and that was the end of that.

In 2000 "Supernatural Addiction" was released through Relapse Records. It was recorded at Oblivion Studios with Mike Bossier producing once again. For the first time it had artwork by Allen Koszowski. How did you hook up with Koszowski?

Allen I had met at a horror convention. He was an older man who had a lot of health issues but kept on drawing. He's colorblind, so his art was all done in black and white. I wanted to give him a shot at a cover. I loved what he drew. I had the Relapse art department color it in and it came together nicely.

This record also had the track 'Elly's Dementia', a song about "The Blair Witch Project". It certainly was the hype in cinemas of that point in time. What about "The Blair Witch Project" made you want to write a song about it?

The boogeyman factor. It brought back that 'What's in the closet?' What's under the bed?' vibe of being a kid and spooked out by the dark. The film is so good to me in just playing on your mind. Your imagination creates the monster. Only each individual person knows what scares them most of all.


Also, this was the first record to have a promotional video to further push the record. You worked with director Joannie Cheng for that video. Tell us some anecdotes about the production and shooting of the video for 'Elly's Dementia'.

She contacted Mark on our website. I think her husband was into the band and she taught film at Maryland University. Mark and I met her and she wanted to do it as a project. No charge, nothing! We figured we had nothing to lose. Very sweet lady and she did a hell of a job with it. Mark went to the Blair Witch house location in Maryland and shot some footage before it got torn down. Joannie came out and filmed us in the walk in sewers and woods around my house and we pieced it together. It was a fun time, for sure!

In 2001 the "Behind the Mourner's Veil" EP is released. It was recorded at Oblivion Studios with Mike Bossier behind the knobs. It was your final effort for long-time label Relapse Records. The EP includes the track 'Victims Of the Masterplan' about the West Memphis Three. The artwork was rendered by Allen Koszowski and Mike Fisher.

"Supernatural.." had made good waves with the underground and the press was real good, so Relapse wanted a quick follow-up to keep the band rolling. We didn't want to rush new material just to meet a deadline. So we kind of met in the middle with a new EP with half new stuff and half covers.

We were promised a lot here and none of it was fulfilled. Matt was too busy to be bothered. They constantly lied to our faces and to me on the phone when he could be reached. It was the end. We were still being straight shooters and they had become bullshit artists. No thanks!!!

The West Memphis Three track means a lot to me as it's a perfect scenario for how the world screws up but doesn't take blame for it. Those kids were in jail for years due to the errors of the judicial system. Thankfully, they are now out. What hell they had to go through to do so.

For a second time there was the possibility to shoot a promotional video to further help push the record. In what ways was the shooting the video for 'It's Alive' different than that with the earlier 'Elly's Dementia'? Did you have any input as far concept and/or the script was concerned – or had you to make do with what director Joannie Cheng had in mind?

We wanted a simple idea of playing in front of the movie "It's Alive" which the song was about. Joannie wanted to work together again as did we and we knocked it out in about 5 hours one Sunday on the Maryland University campus.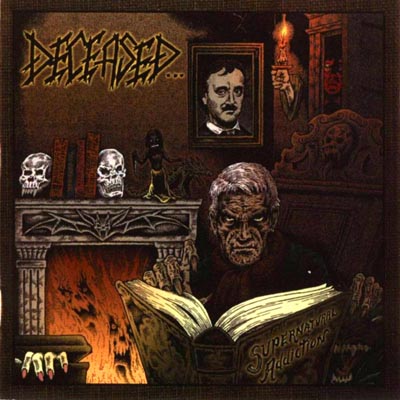 Tell us some more about director/producer Joannie Cheng. I searched around the Internet a bit, but I wasn't able to extrapolate much detailed information on her and what other work she has done. Is she a resident Virginia filmmaker – or was she just a Deceased fan with some experience in the film production industry?

I don't know much more than her and her husband supported the band and she taught at Maryland University. I haven't spoken to her in about 5 years sadly. She was very smart and professional and I wish her only the best in her goals and career!

One thing I love about older artists in the genre is the usage of detailed liner notes. With Deceased you are no exception to this rule. Besides offering technical information on the recording sessions, liner notes also give lots of interesting historical and contextual information about the songs and record. Are liner notes and their importance something that most modern bands have forgotten about, in your opinion?

I love them too. As a freak for records, I love I want the whole scoop. Same goes for movies. I love commentary tracks and the entire A-Z story of whatever the project is on hand. It might not be for everyone, but it is for me!

As a crowning achievement on your longevity as a band Deceased ventured into Germany to play the Wacken Festival in 2001. As I understand, this was more or less your first and only visit to the European continent. Was there never any interest from European promoters/booking agents to have Deceased on our plenty of various metal festivals?

Europe has avoided us for whatever reason. I got us on Wacken more due to my other band October 31 going over so well there in 2000 that the promoter invited my other band Deceased (which he didn't know at all) the following year.

We'd love to come and play the world. We live for the stage. Maybe you or anyone reading can help us in this. It's one of our goals as a band to get over and smash the walls with the overseas mutants!

The 2001 "Behind the Mourner's Veil" EP was in many ways the end of an era for the band. It was the culmination of the breaking down of your long-standing relationship with Relapse Record. The label Deceased helped built. I guess there must have been many big and smaller issues that annoyed you about them. What were the most important reasons for wanting to get away from Relapse Records? Was the once-indie label becoming too corporatized and the relation too impersonal and business-like, thus suffocating artistry and honesty?

They were liars, plain and simple. I hate liars and I hate bullshitters! No room for it. We understand when we signed it's a business relationship. That to me incorporates honest, hard work, first and foremost. We were not getting that. We were getting the runaround over and over. They didn't like me mouthing off about things a few bands on their label were doing that bothered me. Over priced T-shirts and ego rock star trips.

I don't go for it! It' a virus to me and I say so. They'd edit me and our fuck-off lists on our records. They'd make it watered down and easy-going. Hiding the truth. That bothered me. Bottom line and the honest truth. They just couldn't be trusted!

In a move that was surprising, Deceased choose to sign with Thrash Corner Records, a much smaller-scale and less visible label. Besides getting back to basics in many ways, what were the deciding factors for you to secure and ink a contract with them?

Owner Ray Lopez is a friend. He loved and supported the band for years. He wanted to try and do a record with us and we went with him. It was back to basics. We had gathered the connections and gathered the knowledge. We didn't need Relapse anymore for anything and they basically made the choice to leave easy. I personally wanted to give Ray a chance. He was starting out and we had a good following in the underground it waa a 'name' band for his label. He did a hell of a job and really all of his promises were fulfilled on the one album deal we did with him.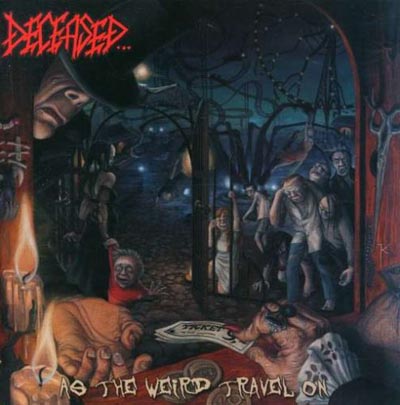 2002 was the year of misfortune and personal tragedy for you. Your mother was taken ill and suddenly passed away, in a mere two weeks time. King, your health problems also resurfaced, as you were feeling shortness of breath, rundown, etc. As you were stricken with illness, the eventual diagnosis was that of periodical blood clots ending up in your lungs and brain. You were clean for a great number of years. That must have been a shock, no?

Well, nothing shocks me anymore. The world and life is just that. You have to deal with it all. My mother's passing was a horrible moment in my life. Too great a lady to go down by a sudden infection. I had to regroup and help my family though it all. My brother and sister and close persons to the family needed me. My dad died when I was 5, so I was now the oldest 'parent' figure we all had. We made it through but it took its toll on me too. I was always on the run and wasn't taken care of myself enough. Little sleep and overworking myself. I was just putting my mind elsewhere. Blood clots formed in my lung in 2002 and in my brain in 2004. It's been determined many years later it's from a heart birth defect and it's something I now have control on and take medicines to make it much easier to deal with.

More personal health problems detract the working of the band in 2004. First there was the relapse of the illness that sidelined you considerably. Time is taken to fully recover and regain your composure and health. At this juncture Deceased is on hiatus. On top of all that, you also suffered a stroke. It seemed that misery truly loved company, that must have been a blow to the morale. Yet you persevered and carried on... I respect strength like that. What motivated you to push forward, on a personal level as with the band?

Life is life! That which does not kill.... ! I'm strong-willed. I got that from my mother. I got up and went with it. The stroke was an intense physical blow to my left side and affected me a lot and I'm left handed! I got to therapy and busted my ass to get better and stronger. 20 days after the stroke I was in the studio doing demos for "As The Weird Travel On". I wasn't sitting around. The band is my life - it means everything to me. Music is my heartbeat. Besides my family and friends, this is where all my love, effort and time goes.

2005 sees the release of "As the Weird Travel On". For the first time you choose to work at a new studio. The album was recorded at Assembly Line Studios with Kevin Gutierez. The artwork was created by Jowita Kaminska. On many levels, this was a record of changes. What prompted the change in studio, producer and cover artist at this point?

Kevin was a dear old friend from the earliest days of Deceased. We grew up together. He built a beautiful studio in his house in Vienna, Virginia. We all wanted to record there. He did a hell of a job and his studio gets amazing results. I love the way that record came out. We let Kevin produce it and we all kind of just let it unfold. Dave 'Scarface' Castillo played drums for the first time ever on a Deceased recording. I was just the singer now. Even though I wrote the drum parts, it was nice to be able to go in and just attack one 'main' thing. I like to try new artists and Jowita became a great friend during my 2004 illness. She did benefits and auctions for medical bills for me and we became close. She did a hell of a job on the cover art. The band was very close then. Dave had been playing live with us for almost 5 years on and off before the record. I had wanted to give up playing drums live long before any illness and it just felt 'right'.

One of the more interesting events in the career of Deceased was the formation of your own label imprint with Shrieks From the Hearse. What was the impetus behind starting your own label/distribution company? Was it through your own experience (and hardships, difficulties encountered therein) in working with labels like Relapse Records and Thrash Corner, that you could do it better on your own?

It just comes down to I know it pretty well now. I've been doing the band thing for 28 years. I'm 44. We're all older and learned a great deal along the way. We got our ideas and we know how we want it. So we created the label for our product. We'll still license out and work with other labels. We are on Hells Headbangers now for a few years. Looking forward to working with them.

The label is growing from strength to strength rather quickly, I get the impression. You were able to procure licensing deals for North America with the up-and-coming Patac Records and traditional metal specialist label Hells Headbangers Records in rather quick succession. Have any European distributors shown interest to distribute your label's titles and releases?

We didn't really pursue many European labels with the last two records. We're fine with how it is. Sure, we'd like Europe to be able to easily get the product, but we can't really just jump into something unknown to us. We've got to be sure and not have any real chance of bullshit down the road.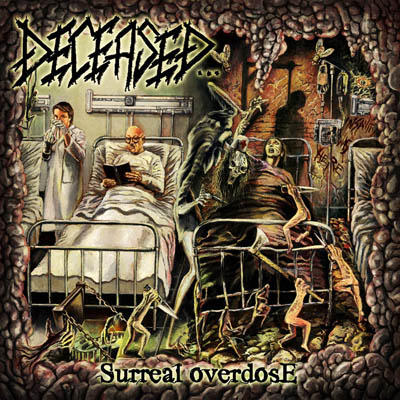 The flagship release for Shrieks From the Hearse must have been the "Fearless Undead Machines" re-issue. The label certainly delivers what it says on the tin, as the label took its name from a song off Deceased's "Nuclear Exorcist" demo tape. How would you describe the first few years of running the label? Was it difficult building the brand?

It's really easy! I coordinate the tracks, art and layout and put it to the factory. I try to give bang for the buck and make every release special in its own way. No half-assed or corner unturned!

In 2011 there was the long-awaited release of "Surreal Overdose". As before it was recorded at Assembly Line Studios with engineer/producer Kevin Gutierez. This time around the artwork was rendered by Raoul Gonzalez. It marked the return of King Fowley on drums and vocals, in the studio. Did your ongoing health issues prevent you from drumming and singing simultaneously for a few years?

My left side is weak from my stroke, yes. I still wrote all drum tracks, even at my weakest for "As the Weird.." sessions. I wanted to do it this time. I wanted to prove I could still do it. If only for myself. I enjoy writing drums and playing them to a degree. I'm now really into playing live as a singer and not as a drummer. I don't want to sell anything short and my left hand is really affected by my stroke so at times the hand holding the drumstick doesn't want to stay still or cooperate. I don't know yet if I will play drums on the new Deceased record. Most likely I will not. I'm happy I did it again. I'm happy people were happy I did it again. It's not an easy process in the studio and slows us all down waiting at times for my body to work right.

Tell us something about your current deal with Horror Pain Gore Death Productions. Is this another strategic alliance to strengthen Shrieks From the Hearse in North American territory?

Mike the owner is a friend. He wanted to work with Deceased and so we did the "Luck of the Corpse" cd reissue together. Straight-up guy and a good label. That's as far as it went across the board!

Now, this is a question you've probably been asked a million times by now. But what's the status on the long awaited DVD "Digital Graveyard"? Is that still a feasible business venture with today's declining record sales, the supposed end of physical media and the ongoing debate of how illegal downloading has killed the recording industry?

The honest answer is I have over 300 hours of footage. I keep trying to keep up with it. Finding it all and gathering it in the best quality I can. I want the DVD to be special. With commentary and tons of extras and fun stuff. Not just some outdated footage from 1988 at a basement party. We've got great quality stuff. We've got awful quality stuff. It all has its place for the genuine Deceased supporter. Until that comes together correctly it will have to wait. It is called "Digital Graveyard" and will still be called that when it is done! It's not about finances or anything illegal downloading has to do with. It's a real deal copy for anyone that wants it. Whether that's 4 people or 4,000 people!

One of the things I have always appreciated in the older generation of death metal and Deceased in particular is how narrative the lyrics are. There's something about lyrics truly conveying a story arc instead of being just descriptive. Is storytelling in lyrics becoming something of a lost art in many modern groups and artists, in your mind?

I love good lyrics. Especially anything in the morbid realm. It just heightens the vibe of music to me. Yes, a lot of lyrics are kind of 'toss away' to me when I hear other music. I have learned to appreciate lyrics and the delivery of those lyrics in our music through the years. As I mentioned earlier, I don't care so much for playing drums anymore in Deceased - but more than ever I want lyrics that give a person the aura to the tune and let them picture the horror and madness at hand.

Like many ambassadors of the earlier American death metal scene, your vocals have always been very emotive, well-enunciated with clear phrasing and interesting vocal melodies. I hate the current trend in underground death metal where everything must be as monotonous, undecipherable and deeply growled as possible. What is your opinion on how metal vocal cadences have changed over the last decade and more?

I never liked gurgle vocals. They aren't heavy to me. Aren't effective and most of all just come off as stupid. It's one of the 'death metal jokes' people bring up a lot. The cookie monster thing. I like a big chest and big voice that brings power and delivery to it all. It really can make a song rise above the rest. A lot of folks go on studio tricks and then you see it live and its really, really bad. To me that's selling yourself short!

On a sidenote, what are the status and/or plans with your traditional heavy metal project October 31 and Old Metal Records?

Old Metal Records keeps putting out CDs every 4 months or so. About 3 a year. Just did CD releases this past year by Canada's Jade, England's Hammer and England's Holland. All classic metal LPs from the day. More coming soon, including Fast Kutz, Executioner from Boston and hopefully Doomwatch. October 31 is coming to Germany for the Keep it True fest in April. Our first live show overseas in 13 years by then. A new album is in the works too called "Bury the Hatchet". We have also signed with Hells Headbangers Records. Still l00% traditional heavy metal for those that enjoy that sort of thing.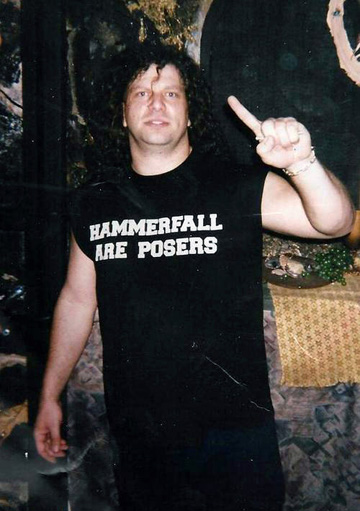 Why do you think Deceased have lasted throughout the rise and fall of death metal? A lot of bands who were around in the early "Luck Of the Corpse" days have either changed or split up, but you're still here; what do you think is the reason for this?

Dedication and sincerity. I'm in this for life and the band understands that through all the years of drugs, death, band members leaving, marriages and divorce, children, work and health issues - the band is still that same powerful entity of its own. I keep the bricks in place and the other guys do their share as well. It's just something that's meant to be!

Building further on the previous question. Having survived multiple trends, label changes, health scares and many of life's general difficulties. As a veteran of the industry, are there any words of wisdom or advice you like to dispense to young acts hungry to get on the road and/or new to the recording/touring industry?

To be yourself, always. Never for a second try the easy-way-out or the quick-to-the-top ideal. It's a long, long way if you're in this for life. To sell yourself and your counterparts short is really the ultimate letdown. Keep face, keep faith and most of all never lose your edge.

King, you have always been very outspoken about metal and you are a fierce defender of the traditional metal sound. What is your opinion and angle on detestable modern day trends as groove metal (mid-late '90s), nu-metal (late '90s-early 2000s), metalcore, deathcore (2005 onward) and djent (core variant of technical metal, last years)?

Really, to me music is music. So many dabble and try and twist metal into this and that. If that works for folks, then so be it. I'm not a fan of funk metal or rap metal or opera metal or whatever the new word of the week for metal is. I like the music loud and the passion louder! I like a good song. A good player who you can feel is playing from the heart. The rest usually figures itself out. Lots of trends come and go. So many looking for the 'next big thing'. I am not! I'm happy playing and creating death metal from the grave in the Deceased spirit and sound. If we give our all to do that with all our might we'll be just fine at the end of it all.

Another subject I wanted to pick your brain about is the following. On the "Behind the Mourner's Veil" EP you wrote a track named 'Victims Of the Masterplan' – a 5 chapter, +10 minute epic about the West Memphis Three. What are your thoughts about their recent release, after two decades of wrongful incarceration, not that long ago?

I am thrilled to see that justice caught up and released these 3 men, once children. The years of precious life they lost will never be returned to them. Hopefully it'll serve for many, many years a reminder of how not to rush to judgment on things in one's lifetime. I am still sad that the real killer is free in the world and I'm still sad that those 3 very young boys lost their lives to hideous murders. I hope one day to wake up and the entire case has been solved and the piece of shit person or persons who truly did this are given their just reward.

It's surprising that it took as long as it did. You were one of the artists (including Johnny Depp, Henry Rollins, Eddie Vedder) to support and bring awareness around the case. It is strange that even with three "Paradise Lost" documentaries on the case, so little in changed in their plight. What was the reason for that, you think? Small-town narrow-mindedness, superstition borne out of ignorance, the incompetence of local law enforcement and forensics – all of the above?

No one wants to admit they are wrong. It's been a running nightmare in the world since day one. It was such a horrible injustice to so many yet those folks who put those three in jail just smiled and acted like they were the wise folk that saved the world from the devil.

Well, King, I think I have rambled on enough now. It's time to conclude our interview. If there's anything of importance I've forgotten to mention, here's the place to rectify that – the last words are yours. Thanks for keeping the ancient flame burning and letting the metal flow.

Thanks so much for the great interview. Love to get to Europe and play a bunch of shows with Deceased. upthetombstones.net is the website. Kingdoomstone (at) yahoo.com is the email. Anyone wants to talk or yack it up can find me there.

Stay wild, stay ugly and up the tombstones!


Info/booking: http://www.upthetombstones.net/

Related links:

Labels
Hells Headbangers Records: www.hellsheadbangers.com
Relapse Records: www.relapse.com

Studios & producers
Inner Ear Studios: www.innerearstudio.com (Don Zientara)
Assembly Line Studios: www.assemblylinestudios.com (Kevin Gutierez)




Masterful Magazine - http://masterful-magazine.com