Malignancy
interview by - Wouter Roemers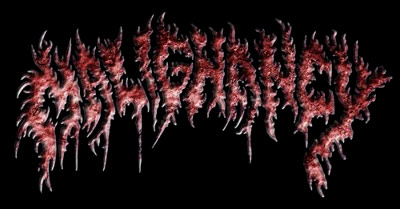 Despite being around since early 1992 Yonkers, New York underground heroes Malignancy have only released three albums to date. Prolific they are not, but quality always tops quantity. "Eugenics", their latest slab of horrifying and technically impressive brutality, upped the ante considerably and raised the high standard of "Inhuman Grotesqueries" even more. With this scribe being an old school fan (from the time of "Intrauterine Cannibalism" and "Motivated By Hunger" EP) of the band, there was no hesitation when the chance arose to talk to founding member and vocalist Danny Nelson. Nelson clearly loves what he does as he in detail explains the band's beginnings, their various records and how he perceives the scene of today.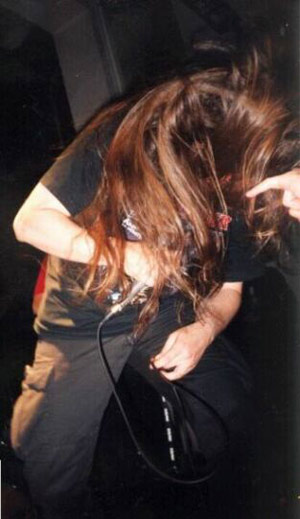 Malignancy's humble beginnings can be traced back to being formed by yourself and Javier Velez in February 1992 in Yonkers, New York. In the first few years a bunch of demos were released, of which 1994's "Rotten Seed" and 1997's "Ignorance Is Bliss" are the most well known. The latter also introduced Mortician member Roger J. Beaujard on drums. Could you give us a brief overview of the highpoints, lowpoints and challenges you faced during these early days? What do you recall from the earlier days of the Yonkers/New York scene – were there any events or happenings that stand out in your memory?

The early years of the band were filled with lots of good times and some frustrating times. As a young band, we had to deal with line-up changes all the time. Our first drummer (John Marzan, ed) left because of musical differences and we ended up jamming in my bass player's (Frank Madaio, ed) basement without drums for a few months. I was frustrated because we were not really creating the sound I wanted for the band. The guys I jammed with were good, but lacked that certain something Malignancy needed. Back then every band was trying to emulate Suffocation in one form or another. That was something I did not want to do at all. Roger and Ronnie then joined and the true Malignancy sound was born.

Yonkers in the early 90's was killer. We had awesome record stores and venues that were all metal. We played our local record store, Rockin' Rex, it was insane! Nothing like it is today. The internet was very young back then and you had to actually find new metal. Amazon.com didn't give suggestions on what you might like based on your purchases. We got our music from word of mouth or reviews in magazines.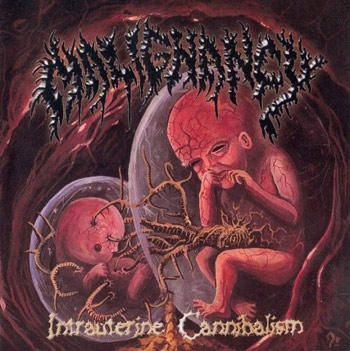 In 1999 the debut "Intrauterine Cannibalism" was released through United Guttural Records, the label then-owned/operated by Rich Lipscomb (Fleshgrind). It was recorded at Primitive Recordings Studio by Roger J. Beaujard and featured artwork by Juha Vuorma (Autopsy, Edge Of Sanity, Fleshgrind, Unholy). That must have been an accomplishment. Signing with a reputable label after years of working the local underground scene. In retrospect, are there any things you wish you'd done differently back then?

It was an accomplishment in the band's history to me. The deal was basically inked after Roger and Rich met on tour in 1998 (Mortician/Fleshgrind). I wish we got the deal sooner, to be honest. Most of "Intrauterine Cannibalism" was older material. The mid to late 90's were a difficult time for a band to get signed. Most of the majors were dropping all their death metal acts and underground labels were going out of business. The death metal Dark Ages, so to speak. We managed to stay together and UG kind of fell into our laps.

A year later, in 2000, the "Motivated by Hunger" EP was released on United Guttural Records. It was recorded at Primitive Recordings Studio by Roger J. Beaujard, who also did the artwork, design and lay-out. This was the last record to feature bassist Desmond Tolhurst, who also did session/studio work for Mortician a few years prior.

The album cover concept was mine and I supplied Roger with all the art to compile that image. It was not what I really wanted unfortunately. We had to get something done and Roger did a great job. Juha Vuorma did paint a cover for "Motivated By Hunger", but he decided he did not want to finish it. He was not really feeling the piece, I guess.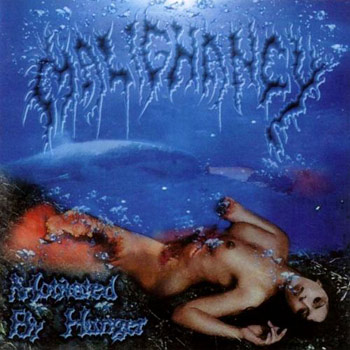 2001 saw the release of the "Ignorance Is Bliss" demo compilation on Primitive Recordings. Was this a gesture of appreciation towards the band's growing fanbase? I imagine not everybody was so lucky to own the original "Eaten Out From Within", "Rotten Seed" and "Ignorance Is Bliss" demo tapes.

It was a gesture to the fans and a flagship release for Roger's label Primitive Recordings. I always wanted to do a demo compilation and it seems like the right time to release it. I hope to eventually get this material out on LP with some bonus tracks. I was still selling the old demo tapes a few years ago to some friends in the scene. I personally miss cassette demo tapes. I do see some bands still putting them out. Perhaps we will put something new out on that media.

In 2003 the "Cross Species Transmutation" EP was released on United Guttural Records. This was the last release to feature Roger J. Beaujard on drums, as he prioritized Mortician from that point on. A promo video was shot for the title track, with director Todd Gulkelberger from Evil Eye Productions. Tell us some stories or anecdotes about the production of this video clip.

Yes, "Cross Species…" was Roger's last album with us. He left mainly because of issues with his wrist and knees. Playing that fast can take its toll on your body. "Cross Species…" was slated to be a full-length album, but we halted the writing so we could record and put it out quickly.

The video was a fun experience. It was shot in our pink rehearsal room in Mount Vernon, New York. Todd and his wife were awesome to work with. He needed a band to record for a contest and we needed someone to record a video for us. We were not planning to release the video and then it showed up on the Evil Eye YouTube channel a few years later. The plan was to put it out officially on a DVD, but that never happened.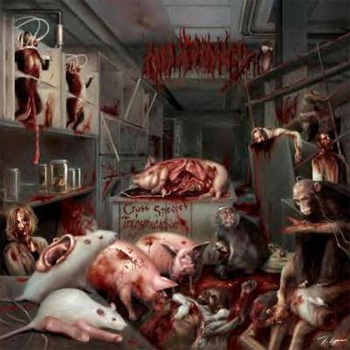 During that same year Lipscomb announced that he was folding his label United Guttural Records. How much of an impact did that have on the band and its workings? It must have been a considerable setback!

Rich didn't exactly announce it, he just sold it and we had no idea. It didn't really set us back too much. We were breaking in a new drummer at the time. We had to be focused on that and not worry about what label we would be going for.

How was it appearing in the "Death Metal: A Documentary" in 2003 by Grimoire Of Exalted Deeds, along with members of Amon Amarth, Brutal Truth, Immolation, God Dethroned, Suffocation, Type O Negative, etc.? While the production values were shoddy and the shoot wasn't entirely professionally handled, it did gave a candid insight into the underground scene an what it represents. Any particular memories from that shoot and how the Grimoire approached you with their idea of that documentary?

It was a really cool experience for me, despite the fact that I look like a junkie on screen, haha. The lighting was way too bright. I looked like a ghost crackhead. That footage was taken at a club in New Jersey and it was Suffocation's first show back. It was also the first time we ever played with Suffocation, believe it or not. We never did back in the 90's. All in all it was an insane night. Thanks Bill!

In 2005 Malignancy independently released the three track "Promo 2005" to arouse label interest. Other than that, it introduced new bassist Lance Snyder and drummer Mike Heller to the world. Did the promo lead to a lot of possibilities and opportunities regionally? I imagine Malignancy must be revered in the Yonkers/New York area, seeing how you are one of the long-running entities of that region.

Lance was our old second guitarist back during the "Ignorance Is Bliss" demo days. He left for a few years and rejoined as our bass player. Lance was also on "Cross Species Transmutation". This was indeed Mike's debut. We sent the promo out to a few labels. Willowtip actually really wanted one. Then they signed us shortly after listening to the material.

We have been a fixture in the death metal scene around here for a long time. We still play shows from time to time in Yonkers. But the scene here is not that great, so we usually play in NYC.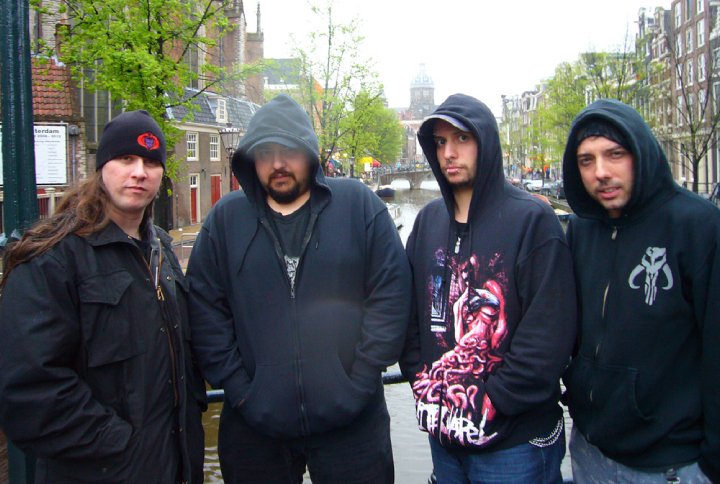 The darkest and most despondent period of Malignancy must have been the three-year label search. Tell us about how you shopped the album/band around to various labels and how eventually signing with Willowtip Records was the best choice.

It was not a dark time for us at all. We were busy training Mike to "be malignant"! Ron and Lance began teaching him old Malignancy tunes, so he could basically grow up playing Malignancy. One year was spent training him and then we started to play gigs. Once we were super-tight and comfortable with each other on stage, we slowly started writing.

2007 saw the release of the band's long awaited second album "Inhuman Grotesqueries". It was recorded at the band's own Malignant Studios and featured amazing artwork by Tony Koehl. It was received overwhelmingly positive globally. Did that newfound critical acclaim and accolades lead to a lot of opportunities for the band?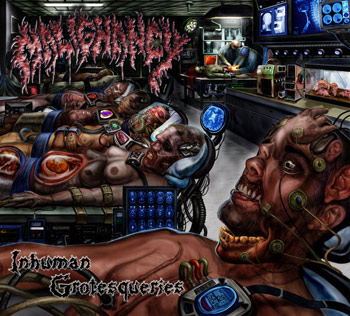 To be honest, it really did not do much for us. We pushed the album just like all the others with a U.S. tour in 2008 with Impaled and a few festival appearances throughout the year. "Inhuman…" is a great album, but it was such a bitch to record. We chalk it up as another learning experience.

In a curious twist of events 2009 saw the return of Roger J. Beaujard. While he originally drummed for Malignancy, he now returned on bass guitar. This must have been a boost for the morale, considering Beaujard is (somewhat of) an original member. What prompted his return to Malignancy – is Mortician's touring hiatus to thank for that?

Roger has been a long time friend to Ron and I, so we asked him if he could help us track "Eugenics" and play some live gigs. It was a challenge to him to relearn the old material on bass as opposed to drums. What a crazy transition, but he pulled it off quite nicely. There was not much going on with Mortician, so he rejoined as a session member for Malignancy.

6 long years after your second album we now have "Eugenics", the second of your two-album deal with Willowtip. Keeping your past with United Guttural Records (who changed owners in recent years) in mind, how has Willowtip Records been treating Malignancy? Can we expect to see more records released through them?

It has been five years. Willowtip has helped us with both releases. "Eugenics" a lot more. This was the first album we had a publicist, Earsplit. They helped us plan out a timeline for the album. We never had that before. What a great experience working with them - cannot wait to do it again. Right now we are totally concentrating on pushing "Eugenics". There are no talks on what our future is on Willowtip, time will tell.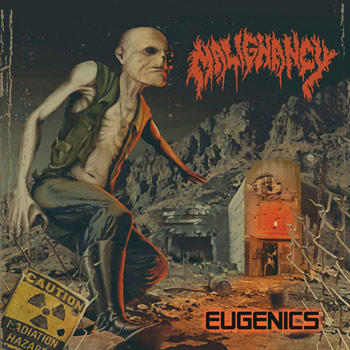 This third album is a semi-conceptual, post-apocalyptic tale of mankind's demise by alien invasion and their own undoing. Science-fiction isn't exactly new to death metal, as bands as Nocturnus, Wormed, Gigan and more recently Rings Of Saturn and Deeds Of Flesh have proven. In what ways is this album superior to Malignancy's past output, in your opinion?

The album has no talk of alien invasion on it. "Eugenics" is a post-apocalyptic tale about how humans deal with this situation they are forced into. It is a concept record through and through, all the lyrics are intertwined and the music sets the scene. My writing has always dealt with science-fiction themes that have a science fact twist with a horror cherry on top. "Eugenics" is superior in the production and execution of the material. We are proud of this album just like all the others. "Eugenics" has raised the bar a bit!

Danny, a lot of death metal bands take it rather easy on lyrics and concepts. You have always been very different and individual on that end. Your lyrics always seem plausible given their context and are very maturely written. It's more and more of a rarity to see intelligently crafted lyrics these days. You are surrounded by talented multi-instrumentalists – so I guess you try to complement their chops by writing these amazing lyrics and macabre stories?

Thank you brother for noticing. You are right, a lot of death metal bands do not even write lyrics. It's just growl patterns over music. Some fans like that kind of approach but I think this is the way many fans are these days, especially the younger ones. I always felt you had to experience the album as a whole: music, lyrics and artwork. These days, you are a download and a mini pic on an iPod. Physical media is dying out, they say. Screw that, I enjoy having an actually copy of a CD or LP in my hands. I am surrounded by awesome musicians and I like to pull my weight so to speak in the band.

In a lot of ways I consider Malignancy similar to pillars such as Bolt Thrower, Incantation and Monstrosity. You don't release albums in a predictable two-year fashion (or all that often, generally), followed by a bout of international touring. Instead, quality always seems to come first. Does that have to do with family – and employment obligations hindering lengthy tenures of band activity?

Wow! Thanks again brother. 20 years is a long time to play death metal. Many bands have broken up and then reformed, but we have always been here. We all have responsibilities to deal with and the band is secondary. None of us can afford to just up and leave for a 6 month tour.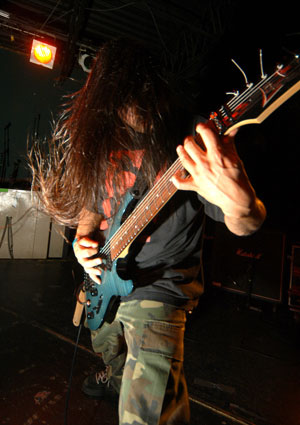 If we could we certainly would but our careers dictate what we can and can't do. The band is always a constant. We jam a few times a week and play a few shows a month. We only take a week or two off after tours. You just need a break to get back to real life again.

Malignancy has played tours/shows in Colombia, Mexico, South America and Europe, besides gigs of various capacity on your own continent. As a veteran of the industry, are there any words of wisdom or advice you like to dispense to young acts hungry to get on the road or new to the industry?

Go explore! Go out on weekend road trips to other cities and experience other scenes. We did and loved every minute of it. Get on the road while you are young and experience life outside of your town. Get signed and then get your ass to Europe, the metal capital of the world!!

Well, I'm running out of questions, so feel free to end this interview in any way you like. If there's anything of importance we might have forgotten to mention or anything you'd like to add, just go ahead. Thanks a lot for your time and all the best to all of you!

Thanks again this killer interview. I appreciate the support! Thanks to all the fans who keep their local scene alive! Stay Malignant and enjoy "Eugenics"! Cheers!

Info:
Willowtip Records (North America) – www.willowtip.com
Hammerheart Records (Europe) – www.hammerheart.com



Masterful Magazine - http://masterful-magazine.com