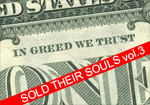 In our ongoing investigation of deceptive and outright fraudulent extreme metal acts, we pull the rug under a handful of established outfits that don't even seem to bother hiding that they are after your money first, artistic integrity a distant second - an audience satisfaction not even registering. The more we pull away the blinds the more obvious these practices become. Maybe your favorite band is in here, maybe your life-long inspiration only cares about the dollars/euros you're giving him/her? Don't be fooled, there are plenty of honest, hard-working metal bands everywhere in the scene. It's just that these money-hungry, artistically vacuum units make it difficult for everybody involved. These bands stopped caring, they lost the passion and fire. In short:
they Sold Their Souls...
Golem
interview by - Wouter Roemers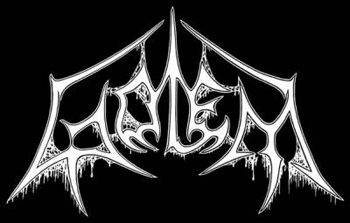 German death metallers Golem are one of that country's continually underrated and less visible acts, when compared to the likes of Defeated Sanity, Necrophagist, Obscura and Pavor. With a history spanning two decades and a handful of releases to their name this act is only known to those closely watching the underground. Fusing the monolithic structures of Morbid Angel with the melodicism of post-"Symphonies Of Sickness" Carcass and the instrumental mastery of latter-day Death this outfit certainly deserves more attention than it is currently receiving. With their last release "Dreamweaver" dating back from 2004, it was time to talk to one of Golem's founding members and chief songwriter Andreas Hilbert (vocals, lead guitar). Masterful Magazine caught up with Hilbert to discuss the band's formation, the demo days and their eventual licensing deal with German conglomerate Nuclear Blast Records.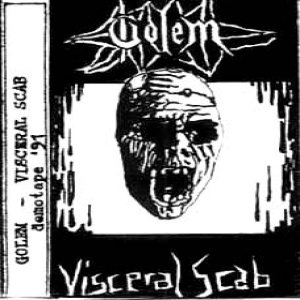 Golem was founded in July 1989 by Max Grützmacher (bass), Michael Marschalk (drums) and Andreas Hilbert (guitars and vocals) in Buckow, Brandenburg. Inspired by bands like Napalm Death you started to write original tracks. Could you give us a brief overview of the highpoints and challenges you faced during these early days?

Well, at that time back in the GDR (German Democratic Republic, ed) even getting usable instruments was an issue. Of course we were quite young and naive about so many things. It got better though with the downfall of the iron curtain and a lot of support from our friends. But nonetheless we had a lot of fun and that certain fire burning in our hearts…

After two years of writing and rehearsing the first demo tape "Visceral Scabs" was drafted for release. This tape comprised of 4 tracks and was recorded at A Hole In The Wall (Berlin, Germany) in 2 days in January 1991. It must have been special, as it managed to attract the attention from Michael Trengert of Nuclear Blast Records. Any particular stories you recall from these very first recording sessions?

I still remember that certain guy that drove us to the studio in Berlin (us being around 16 years old at that time). It was a quite special experience for all of us. When I think about the recording situation and the equipment we used it seems quite surreal compared to what one might expect in today's time. Everything was recorded live to an 8-track machine and the guys operating it were absolutely astonished hearing that kind of extreme noise we tried to put on it. I think it goes without question that they never heard of something like that or had the slightest clue what that kind of music should sound like. We on the other hand didn't know that it takes more than just some microphones to get a decent recording. Anyway, we were quite happy with the result cause at that time nobody expected demos to sound like a professional record. So we were also quite certain that it could benefit us, being that young, extreme and uncompromising compared to others around in the area at that time. The whole future still lay in front of us.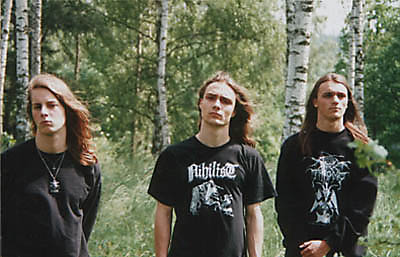 On June 29th 1992 bassist Max Grützmacher and two friends were killed in a car crash. That must have been an ordeal, losing a co-founder so early on. You persevered and put together a new line-up. While a new line-up was coming together drummer Michael Marschalk decided to leave Golem. New members were attracted and songwriting for the second demo continued. What were the challenges you faced with these new members partaking in songwriting?

I've always been quite conservative with my musical ideas. So it was undeniably a challenge to allow others to bring in new ideas and to let them criticize my own. Jens, being a little bit older and experienced, already had a more mature vision of the music but looking back I don't see myself appreciating it as much as he deserved it. Nonetheless those times did straighten us out a little bit and with Anal Cunt's "5643 Song" EP in the back musical extremism had to be found elsewhere anyway. The situation with Michael and Ruben - who both were in that car accident - also wasn't that easy most of the time. But we kept our act together as we all more or less considered that music to be the most important thing in our lives.

June 1993 saw the release of Golem's second demo tape, "Recall the Day Of Incarnation". Merely a month later newly recruited guitarist Jens Malwitz died in a crash with his motorcycle. Once again you were forced to deal with the unfortunate passing of a band member. What motivated you to persevere and to continue Golem?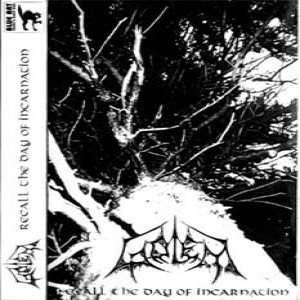 It's not that I was so sure about continuing. It made me – otherwise having a very rational mind - almost superstitious. On the other hand, I asked myself what good it would do to them or us if we just give up? Why not give them the honor to live on through the music they helped creating? Since the band survived the first tragedy there wasn't even that much rational backup for capitulation. Rico and the Fermenting Innards guys - as more recently involved outsiders - also helped a lot in getting perspective.

That tape was circulated around and sent to various record labels, resulting in a two album deal with German label Invasion Records. At this juncture drummer Michael Marschalk rejoined Golem and preparations were undertaken to enter the studio. What about Invasion Records' offer made them an ideal partner at that time?

We knew the label owner's band Lunatic Invasion for quite some time. He ("Maja" Majewski, Lunatic Invasion drummer, ed) was very convincing that they'll be the next big thing in extreme metal since Nuclear Blast seemed to take a more commercial path at that time and also weren't that much interested. Invasion put out albums like Cryptopsy's "Blasphemy Made Flesh" and had Defleshed on their hook. That just seemed the right thing for us to do.


The band formed in 1989 together with up-and-coming German extreme metal acts Agoraphobia, Atrocity, Blood, Crematory, Fermenting Innards, Lunatic Invasion, Morgoth, Of Trees and Orchids, Pavor and Vomiting Corpses, etc. How would you describe the German scene at the time and Golem's demo days in general – were there much opportunities for bands like Golem back in the day?

I would describe it as rather locally. I think we had more contacts all over the world via mail and tape-trading than back home. We also (unjustifiably) perceived the scene as rather small. All in all not innovative enough and we were more looking towards Britain, Scandinavia and the U.S. Also, Germany was still at the beginning of gluing together so that most of our personal contacts were from the eastern part where we also played most of the shows. Some decent touring would have helped a lot, I guess, but we never got enough support to actually do it. With the aforementioned bands that leaves us mostly with Lunatic Invasion and naturally Fermenting Innards which I joined as guitarist in 1993. Nonetheless the underground was very active at that time but lost a little bit of its drive in the mid 90s.

After numerous delays Unisound Studio in Sweden was booked with Dan Swanö producing. "Eternity – the Weeping Horizons" was recorded in late August 1995. Problems with the label and some missed opportunities led to a schism in the line-up, reducing Golem to a two-man studio project. What problems did you encounter with Invasion Records exactly and what vital opportunities did Golem miss out on?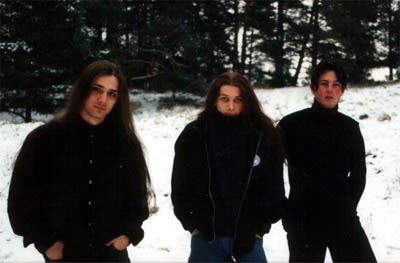 I think that the label already was in financial trouble when we went to Sweden but we didn't know that at the time. Suffice it to say that the owner literally became a lunatic and ended up in a mental institution about 18 months later. Also, there was no support for anything let alone touring and they even decided to exchange the artwork for the release without asking us first (excusing this with some serious deadline). At the time they still promised a second release with our own artwork but it's a no-brainer to figure out that this never happened. But times got more difficult for Death Metal anyway so that we rarely speculate about possible achievements or look back in anger.

In 1998 Soundforge Tonstudio was established by Andreas Hilbert, Kai Mertens (Harmony Dies) and Mike Poguntke. What was the initial idea behind starting a studio compound yourself? Germany never had any shortage of professional studios for metal recordings, even in those earlier days. How would you describe the early days of the studio?

I got into the thing more or less by accident when we recorded "Recall the Day Of Incarnation". We were quite lucky that just at that time the semi-pro Blue Art Studio was established in our tiny hometown. It was officially run by the city council and some more experienced guys were volunteering there to help local musicians. When we ran short of help from the guy who did the tracking we asked if we could do an additional mixing session on our own and we did. I liked doing it a lot and became familiar with the equipment quickly. The initial idea was also to enable Golem to get decent recording time without a big budget. Since I'm also a crazy sound freak I was eager to learn everything to improve it. I was still in school when I started and after some trial sessions with other bands I wondered if it was worth making it a career path. So I started recording music for money there and entered university to study electrical engineering. During that time I did some sessions with Berlin's Harmony Dies and their guitarist Kai was into the same things. Since the situation in that town wasn't optimal for me we made plans to build our own facility.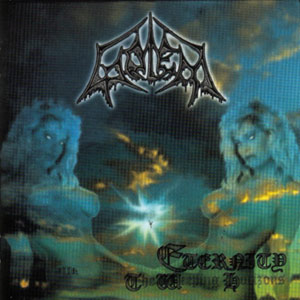 Contrary to your remark there weren't that many studios around that could deliver metal experience and quality at an affordable price. We knew that guy who owned an old small cottage just north of Berlin. He used it as rehearsal room for his own band and also threw parties there. We talked with him about our ideas and after borrowing some money for equipment we built up the first Soundforge Studio there. Compared to today's business it was a rather romantic time and atmosphere. Bands came and stayed over, making it like a recording holiday camp despite all its shortcomings. There wasn't much else to do besides music so people were very focused, something I somewhat miss today.

1998 saw the release of Golem's second album, the aptly titled "The 2nd Moon". This record features the services of Carsten Mai (guitars) and Rainer Humeniuk (bass). It was recorded at Blue Art and mixed at Soundforge Recordings. So, it was a record of renewal on various fronts. It also signaled the band's signing to Ars Metalli, another German label. In what terms was working with Ars Metalli better than the previous Invasion Records?

I came into contact with Ars Metalli during my work at the Blue Art Studio. They booked me for quite a number of productions. The good offer was one reason for that but the studio's proximity to their headquarters also played a role. When the situation with Invasion really went downhill one thing led to another. Unlike with Invasion we started out having a real friendly relationship with that guy (Christoph Dobberstein, Under Black Clouds bassist, ed) and we didn't care so much that it was rather small or that Golem-like music wasn't the label's main focus. We even got some more support with promotion and everything seemed to go a little bit smoother. Nonetheless they also couldn't handle the bigger business and things became strange and weird again including hiding and lying at random times.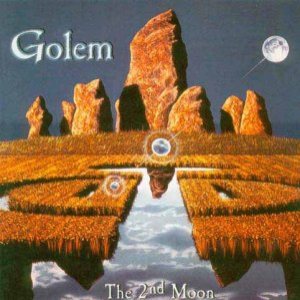 Rather irrelevant and non-judgmental fact: that guy is a woman now. So it might seem that we exhibited a talent for running into people who had enough problems with themselves already. On the other hand we got enough insight into the music business not to expect too much anymore and that realistic approach has helped us a lot so far to see things more clearly.

Finally, after 6 long years 2004 saw the release of "Dreamweaver", Golem's most musically/conceptually accomplished record so far. It was recorded and mixed at Soundforge Recordings once again. It merged elements of latter-day Death, Morbid Angel and Carcass' more melodic moments in a sophisticated package. It introduced new drummer Eric Krebs and as a bonus it featured a "metalisation" of 'Le Sacre du Printemps' of famed composer Igor Stravinksi. The album was licensed to Nuclear Blast Records and featured incredible artwork by Dark Tranquillity's Niklas Sundin. Golem was back with a bang, for sure. Did the final product live up to the standards you set in your mind?

Actually, it does. We are quite aware of some minor flaws but in general it's the best projection of our vision we might ever achieve compared to the constantly evolving world around us. We finally blanked out most of the developments in the scene and created something that more than ever just came from within or was rooted in rather unusual sources. Not considering any questions of compatibility was a great step in growing as real creators of music. Lacking the need for commercial success and of course the experience of life itself supported that liberation. It took us quite some time to get there but in the end it's just great to have that kind of freedom paired with maturity. There is one exception though; the song 'Diaspora' was actually meant as an ironic comment to what we perceived as the current direction metal was taking musically back then. But we don't think that so many people got that.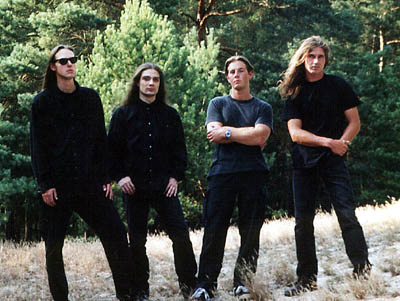 The lyrics for the "Dreamweaver" album were philosophical, abstract, well-written and introspective. Certainly a farcry from the groan-inducing usual gore-horror-splatter themes and anti-religious sentiments expressed by the great majority of the underground. Was this just a natural evolution that came along with the musical growth the band had experienced through out the years and line-up changes?

It might seem odd but we really love Death Metal music. We don't misunderstand it as a way of rebellion or a tool for provocation only. And since everything artistically interesting in that direction is said already anyways we really don't try to or care if we can top that and we never did - except for the first two years or so. We rather try to build up an atmosphere that we also can relate to emotionally. It's still a lot of fantasy though, rather dark but still permitting some human connection. It's simply derived from what we feel musically and is meant more as a vehicle to explore our universe than delivering any kind of message though.

A promotional video was shot for the track 'Faces'. Tell us a bit about the shoot itself, the director, about the production company and so forth. Did the video get a lot of airplay, locally and/or internationally? How were the reactions from the fans?

There simply wasn't a real video shoot. We just took some recent, semi-professional live footage and played around with video editing software. The live video material made it to a local TV station but this specific video never got airplay. We put it on some locations in the net and produced a promotional DVD also containing that video intended for booking agencies and the like. Reactions were very positive but of course it didn't get that widespread, it's a nice gimmick to have though. Some smaller production companies approached us every now and then but we just wouldn't like to get this typical "guys in front of black background" kind of thing. I think we simply aren't that visual with our imagination.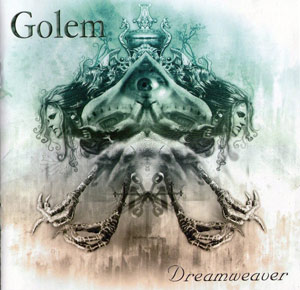 "Dreamweaver" was released in 2004 by Nuclear Blast Records. Are you happy the way they handled the record, regarding distribution, marketing and promotion? How has the label been accommodating the band's needs in these intervening years? Have they been pressuring you in writing and readying a follow-up?

All in all it went quite as we expected it. It would be a lie to say that we didn't hope for more but we are quite good in accepting reality and also our non-existing importance for commercial considerations. We got some adverts and interviews in magazines we wouldn't have gotten otherwise, plus international distribution of the album. So we are indeed very thankful for the great opportunity they gave us. They also continued asking for new material for some time, but that has of course vanished later on. Sometimes we think that the whole situation could have turned out differently in case of better sales but that's just stupid speculation.

As said earlier "Dreamweaver" was a critical/artistic success, but not a financial one. Besides your occupation as a producer, what has led to the lenghty hiatus Golem has been experiencing in the last half decade and more? Will the successor to "Dreamweaver" still be released through Nuclear Blast?

Look, we don't want to and simply can't engage in any kind of technical contest. What's left to us is to write songs that are otherwise unique within some limitations of the genre itself. So after "Dreamweaver" it took us quite some time to think about what we want to do next. And besides, other important parts of our lives took their toll. Some of us started families and I changed my professional career towards something more scientific while still continuing the recording business which was and still is quite demanding. That obviously doesn't help so much with dedicated songwriting though it got a little bit better recently. Nonetheless we wrote music and collected tons of ideas which would account for an estimate of about two "regular" albums now. The problem is that we are still (sic!) not 100% sure if what we do is a thing that needs to be put out to the public. "Dreamweaver" was something that we felt was missing in the music that was out there but nowadays so much good, evolved and mature stuff comes from all sides and it questions the necessity a little bit.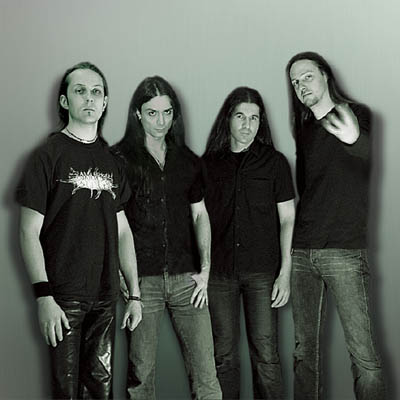 On the other hand we do love to play and would love to continue performing. So we are waiting for the moment that feels right or just let it fade away if we don't come up with something that - at least to us - appears special enough to risk my sanity going to the studio and carving it in stone. Sounds a little bit pathetic, but there are other important things in life and the space for music just has to be fought for harder every year. We believe though that chances are very good that we might have another album recorded within the next 18 months as we already have a number of finalized songs ready. Since we stopped pressuring us too hard with innovation and concepts lately we can see the picture taking shape now. Distribution on the other hand is nothing we worry about so much. Fortunately times have changed a lot and it is so easy now to spread the art.

You went through quite a lot of line-up changes since the band's origin back in July 1989, with Andreas Hilbert being the only remaining original member nowadays... How did you manage to keep yourself motivated all the time? Has there never been a time of frustration, when you were almost ready to quit as well?

Well, those moments come and go on a regular basis. Especially when you realize that you simply can't achieve all things in the time you wished it to take. On the other hand this band is an essential part of my life and it would be almost impossible to let go easily. I'm quite aware though that a time might come where it simply doesn't make sense anymore.

You have your own professional studio with Soundforge Recordings. Besides using it for your own projects, you have been able to build up a modest reputation for yourself in the German metal underground. The work you did for Defeated Sanity and Sinners Bleed has forwarded your profile a lot in recent years, I reckon. Are there any projects or production work for bands that you are particularly proud of?

It's hard to say. I improved a lot over the years and most of the recent productions are nothing to be ashamed of. The good thing is that I'm still able to experiment with sounds and that there is no specific style that could be pinned to the studio. I also explored some more commercial stuff as a producer and that too gave me some insight into the related mechanics. But no, there is no specific project I'd like to point out here. Everybody gets my full attention and every recording has in my opinion some particular outstanding aspects.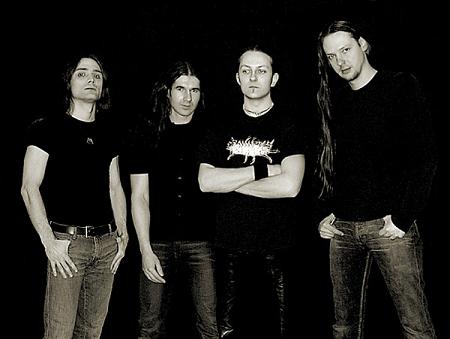 Since the late 90s and early 2000s Germany's profile as a death metal hotbed has sprung up significantly. Bands like Anasarca, Belphegor, Deadborn, Defeated Sanity, Despondency, Ingurgitating Oblivion, Necrophagist and Obscura lead the pack, now and in the future. What has led to this resurgence of so much high quality and technically adept death metal, in your opinion?

I was rather surprised that in the late nineties so many younger people joined the movement which wasn't so much expected back then. I think that the upcoming internet has helped a lot with the exchange of ideas and concepts and it gave a lot of younger participants a platform they might have been denied by the inert industry. Death Metal still bears a lot of potential for a profound expression of the darker sides of life. It seems very likely that with 80 million people and rather discouraging times like these, quite a number of people took that road and devoted their musicality to that kind of artistic extremism. That said it seems quite obvious that some of the scenes output has to be extraordinary even though I'm still not sure if specific German trademarks evolved from that or if they are even necessary.

Thanks for the interview! Good luck with Golem and the constant hardships and setbacks that seem to befall the band. I would like to extend my praise for your persistence in keeping the ancient flame burning. The last words are yours.

Thank you very much for that interesting interview. Keep the flame burning and never stop questioning the limits.



Soundforge Tonstudio: http://www.sf-berlin.de/
Info/booking: http://www.golem-metal.de/



Masterful Magazine - http://masterful-magazine.com