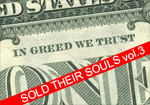 In our ongoing investigation of deceptive and outright fraudulent extreme metal acts, we pull the rug under a handful of established outfits that don't even seem to bother hiding that they are after your money first, artistic integrity a distant second - an audience satisfaction not even registering. The more we pull away the blinds the more obvious these practices become. Maybe your favorite band is in here, maybe your life-long inspiration only cares about the dollars/euros you're giving him/her? Don't be fooled, there are plenty of honest, hard-working metal bands everywhere in the scene. It's just that these money-hungry, artistically vacuum units make it difficult for everybody involved. These bands stopped caring, they lost the passion and fire. In short:
they Sold Their Souls...
Embryonic Devourment
interview by - Wouter Roemers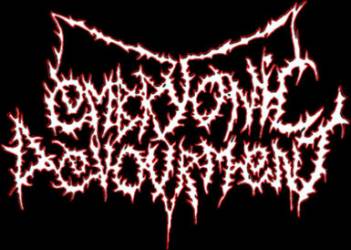 California has become a reliable breeding ground for the most extreme of death metal. Embryonic Devourment is a relatively young act that is quickly making a name for itself in the international scene. Their debut "Fear Of Reality Exceeds Fantasy" was already a promising release in the band's catalogue. This year they released their second offering with "Vivid Interpretations Of the Void", a conceptual record based around the theories and books of English public speaker David Icke. Masterful Magazine chats with Embryonic Devourment bassist/vocalist Austin Spence about the formation of the band, the theories and books of David Icke and what the future holds for his blooming band.

Tell us something about the formation of the band back in the 2003. Besides that California is a perfect breeding ground for death metal, what were some of the difficulties and challenges that the band faced early on in establishing itself, would you say?

Even though California is a breeding ground most of that DM environment exists in the big cities like San Francisco Bay Area cities and Los Angeles and its surrounding communities. For us it's very tough because we actually live far away from any major city in the redwood forest. The population here is about 3000 people for the town we live in. So to be able to find the necessary musicians to form this band in such a small isolated place is incredible. Luke [Boutiette] (our drummer) started out jamming in punk / rock bands. On top of that he is left handed but plays a right handed kit. It was a challenge to mould him into the style that we play. It was very slow going getting to the point we are at now. We all sort of learned to play together and just learned more chords and beats over the years until it progressed into our current state. I think it was fate that we all met each other out in the middle of the boondocks... Crazy!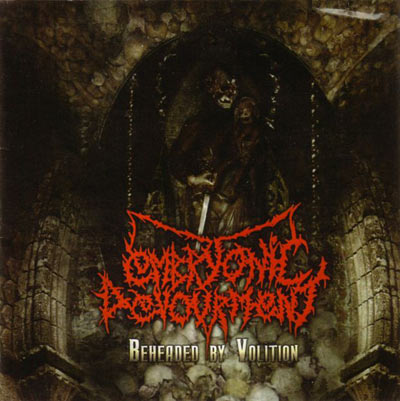 In 2003 you wrote, rehearsed and recorded what would become the band's first EP/promo "Beheaded By Volition". How do you recall this first venture into a recording studio, laying down Embryonic Devourment's first material at Trident Studio and working with producer/engineer Juan Urtuaga (Vile)?

We had heard that Juan left Vile in order to pursue a recording studio. We knew that he had engineered most of the Vile stuff and we really liked that sound. We contacted him up and he was totally into what we were doing and was excited to record us. Juan is a really cool guy and likes to smoke a lot of green, just like us, so our attitudes melded very well together. He tells you when you sound like crap and always urges you to do a better take. He gave us a hard time... which is what we needed to make a sick album. He was very motivational and one of our heroes, as well.

How were the reactions from press and fans to this very first demo recording – did it lead into a number of gigs in and around California? In 2006 it was re-issued with new artwork by Spanish label Grotesque Productions. When and what did Grotesque Productions offer that made the re-issue worthwhile?

We started handing it out at Bay Area death metal shows and out of that came a few shows here and there. Then a lot of shows, and pretty soon we had to turn down shows. Things started getting hectic and it seemed out of nowhere we started to develop a following. We decided that since people liked it so much, we might as well try and get a label to put it out. We sent to a number of labels and got one bite from Grotesque Productions. We had nothing to lose being our first demo EP, so we went ahead and signed. This got us all kinds of European press which was great in getting more labels to take notice. Also, the idea that our music was being sold in Spain was cool. I've never been to Spain but our music is all over there.... Pretty cool.

The EP also saw Embryonic Devourment being fronted by a different singer. What were the main reasons for parting ways with Johnny Helvete? In lieu of his leaving, were you already doing backing vocals prior or did you truly have to rise to the occasion with him now gone?

Johnny was an awesome vocalist and great guy. He basically moved from our area for employment reasons, so this made it tough for him to make rehearsals. On top of that he had a baby to take care of and it just became too much for him. I had sang before in previous projects and felt I could hold it down. Of course, my voice isn't nearly as guttural as Johnny's but it also helped us shape a new sound which is important for a band trying to grow. I'm happy doing it now and wouldn't have it any other way. Singing and playing fretless bass at the same time is a cool challenge...and I love a good musical challenge.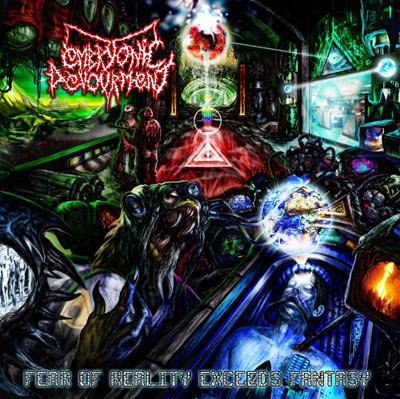 For the recording of the band's first proper album "Fear Of Reality Exceeds Fantasy" you holed up in Legion Studio with Decrepit Birth guitarist/main composer Matt Sotelo. It was mastered by Colin Davis (Vile) at Imperial Mastering. Besides being a creatively inspiring surrounding, what led you to record at Sotelo's facilities?

Matt wanted to try a more live sound with our recording in order to capture what we truly sound like with no hidden studio gimmicks. A lot of drummers nowadays recreate their drum tracks on a computer so that it comes out sounding perfect. We just wanted to shell out something that was truly us and not over produced, and Legion Studios was suited to doing just that. Matt is a great guy to work with and also like our music which made it an enjoyable experience for the both of us.

"Fear Of Reality Exceeds Fantasy" had artwork by Tony Koehl, who is very popular in the more underground regions of the death metal genre. Besides his obvious expertise in all things ghoulish and ghastly, what were the reasons for working with him?

His artwork took our breath away. He had an exhibit set up at the California death fest with all his artwork displayed and we were just like "FUCK!" We had to have this guy on board so we smoked him out phat and gave him our cover concept while he was all high and plastered. He came up with this incredible vision of the 3rd dimension that fit the lyrics perfectly. Once we saw our finished product we knew people wouldn't be able to resist it.

Which brings us to the band's current release "Vivid Interpretations Of the Void". For this record you once again worked at Trident Studio and with producer/engineer Juan Urtuaga (Vile). Compared the earlier sessions at Legion Studio with Matt Sotelo, what made Urtuaga the more obvious choice for this project?

For this record we were in a sort of bind for cash. We knew Juan well and knew that he would give us time to pay him back if we recorded with him. Also his work is incredible and has a knack for making the drums sound like a firing cannon. Matt was super busy at the time with Decrepit Birth taking off into the spotlight so Juan seemed the natural choice. Juan had completely revamped his studio with all new gear so we were eager to hear what he could come up with.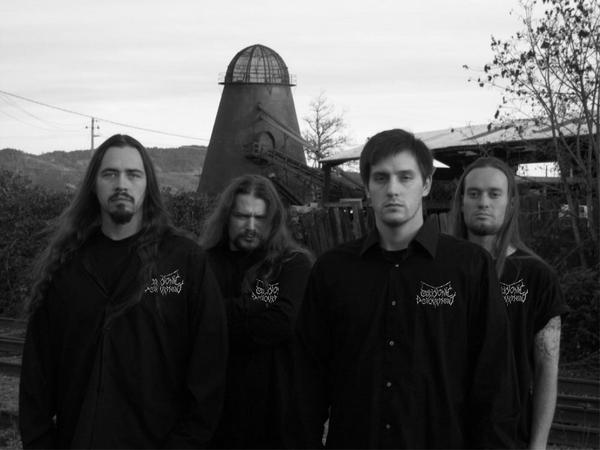 For this new album you worked with French artist Remy C of Headsplit Design for the artwork and the general design and lay-out of the album. His work is nothing but fantastic! What was the primary inspiration and did you have a concept in mind to go with David Icke inspired lyrical content?

For the cover we envisioned a man floating through space while in the process of shapeshifting. Remy visualized it perfectly and already had this piece available before we gave him the concept. There was some debate about using it between our band mates but finally came to the conclusion that no one else could even touch that piece. He truly did an amazing job! He charges about a quarter of what normal established artists would have charged us. We like to save money when we can, times are tough. Remy came through big time

Central to the lyrical content and concept of "Vivid Interpretations Of the Void" are the Reptilian Agenda books and theories of English writer/public speaker David Icke. His theories are certainly interesting. I, myself, happen to have read his earlier books "...And the Truth Shall Set You Free", "I Am Me, I Am Free: The Robot's Guide to Freedom" and "The Biggest Secret: The Book That Will Change the World", the latter dealing with the Reptilian Agenda. What about his theories made you decide to use as conceptual device for the album?

I read the book "The Biggest Secret" and was totally absorbed. I even had dreams about Reptilian beings after reading the book. I was getting sick of writing every song about guts and Satan and wanted to try something new. I decided to help David Icke in his quest to expose the Reptilian Agenda and the rest is history, I guess. Although I've never met David Icke I'm hoping he will get a copy of our cd and see that we dedicated the whole album to him! David Icke rules... There's still so much more I can write about too. I've really only touched the tip of the conspiracy iceberg.


There's really a lot going on in the tracks of this new record. While a lot of young bands focus all their power in being the most brutal possible, a lot of them forget to write actual songs that have recognizable hooks and memorable arrangements. These songs stick with the listener after the album has ended. Embryonic Devourment doesn't have this problem at all, I love the way the songs come first, and if they are brutal and/or technical second, that's an additional bonus. What your idea on that?

We really wanted people to be able to bang their head on this release instead of having a spazm on the floor, I guess. We love all the technical stuff like Decrepit Birth, Origin, and Brain Drill, but we also like crunchy heavy stuff like Broken Hope, Pantera and Morbid Angel. We decided to let the two worlds collide on this release and it worked very well. There's a little something for everyone to dig on instead of being so self absorbed like past releases. Hopefully the moshpit will flow a little better to these songs.

There are two things that I absolutely love about this record. First, the production is crunchy, organic and the bass guitar can be heard clearly. Second, there's a number of intricate guitar leads/solos on a few cuts. Both these things are something that a lot of death metal bands forgot or refrained from doing in the early 2000's, burying the bass so deep in the mix and not playing any leads/solos. For me they are a vital part of the death metal sound, what's your opinion on that?

I agree. I love an album to be thunderous and in order to do that you gotta bump up that bass. There's a band I used to listen to when I was younger called Paralysis ("Patrons of the Dark" CD) that sort of inspired me to have the bass shine through. Also Gorguts and Broken Hope are big influences of this sound, as well. As far as leads go, we're a big fan of lead guitarists like Stevie Ray Vaughan and Al Dimeola. We don't care if leads are "in" or "out", we just want to shred your face off and we have the necessary firepower to do so.... So, why not use it?

One of the downsides of the new record is that it isn't even 30 minutes long. In its sheer intensity and combination of masterful composition with pulverizing brutality, it does however manage to draw comparisons to Deicide's classic "Legion". What's your opinion on album length and such?

We like to leave the fan wanting more. Some releases sound great when you first put it on but then it just sort of drones on and on and the listener ends up getting bored. I think "Fear Of Reality..." was kind of like that, so we really wanted to change up the pattern a bit. If we leave the listener wanting more than maybe they'll actually come see us play live...which is where we really shine through. We are definitely a live band and put on a killer show in my opinion.

This is your second record for American label Deepsend Record, who have truly established themselves as a reliable death metal label. With physical record sales falling lower each year, small and midsized labels declaring bankruptcy and the general disarray in the music – and touring industry, what about Deepsend make them an excellent business partner?

Deepsend are a good label because they are growing right along with us. With each step we make they also make a step in the right direction and things just complement each other with the partnership. Although they are still a small label, they seem to get our stuff out to the fans and create a place we can call home for now.

I suppose you are trying to do as many national-regional shows as possible in support of "Vivid Interpretations Of the Void". Good luck with that, is there a slim chance of seeing you guys in Europe, either in a club tour or festivals, in the nearby future?

Would love to! We are chatting with a tour agency about it right now, so you never know. It would take the right bands and package as well as money to support ourselves out there, but we're staying hopeful and positive about any idea or offer.

California has brought forth its share of impressive death metal acts. Be it Brain Drill, Decrepit Birth, Flesh Consumed, Odious Mortem or Sepsism, Severed Savior and Vile. As a member of this scene, how would you describe it someone from the outside looking in? Is there much camaraderie and interpersonal support amongst the bands and the community key figures?

There is a lot of bands out here and they're all killer. Origin's Paul Ryan lives out here and helps us set up shows and we're pretty much cool with all the bands out here and NYDM crew. Jeff [Becerra, ed] from Possessed is cool as fuck and runs the NYDM chapter out here which is basically a big metalhead club. We all help each other and keep the scene alive out here! It's a great scene

Booking: http://www.myspace.com/embryonicdevourment
Info: http://www.deepsend.com/



Masterful Magazine - http://masterful-magazine.com