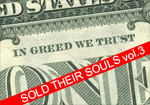 In our ongoing investigation of deceptive and outright fraudulent extreme metal acts, we pull the rug under a handful of established outfits that don't even seem to bother hiding that they are after your money first, artistic integrity a distant second - an audience satisfaction not even registering. The more we pull away the blinds the more obvious these practices become. Maybe your favorite band is in here, maybe your life-long inspiration only cares about the dollars/euros you're giving him/her? Don't be fooled, there are plenty of honest, hard-working metal bands everywhere in the scene. It's just that these money-hungry, artistically vacuum units make it difficult for everybody involved. These bands stopped caring, they lost the passion and fire. In short:
they Sold Their Souls...
Artep
interview by - Wouter Roemers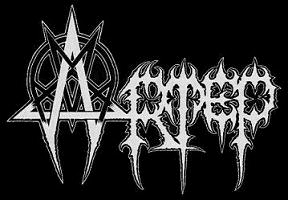 Every year plenty of bands from all over the globe try their hand at the symphonic black metal genre. While many have good intentions there's hardly any worthy newcomers of this genre, as many feel content rehashing what the pioneers in this genre established many moons ago. Vancouver, British Columbia combo Artep, fronted by the delectable Petra Sobotka, already released the "Black War" EP in 2008, which this scribe absolutely despised. Now, two years later, Artep returns with "Thy Will Be On Earth As Is Done In Hell". This full length debut compiles all of the band's demo material along with two new cuts. Given a more thorough representation of the band's musical palette this record actually shows that there still are underground acts worthy of anybody's attention. Masterful Magazine arranged a heart-to-heart chat with frontwoman Petra Sobotka about growing up in Canada, the trials and tribulations of getting a band together and what she perceives as future goals for her outfit.

Hi Petra! Before we talk about the new Artep album, could you tell us how a girl from Plzen, Czech Republic ends up in Vancouver, British Columbia to front her own symphonic black metal band?

My family moved from Czech to Germany to Canada when I was a child. I've always liked music and started playing piano when I was only 5. At age 13 I decided that guitar was more fun and started strumming that instead. I wasn't ready to join a band until I was 19. I met and became friends with Darren of Blasphemy. He introduced me to black metal and I couldn't get enough of it. The very first black metal album I bought was Cradle Of Filth's "Cruelty and the Beast". Shortly after I got into other BM bands such as Mayhem, Burzum, Immortal, Enslaved, Dark Funeral, Marduk, Gorgoroth, Corpus Christii, Darkthrone, Craft, Graveland, Satyricon and many more. My favourite remain Emperor and Dimmu Borgir.

Darren and I formed a band at the time called Sabazius, now renamed Grimbane of which the guitarist Aron (of Blasphemy) still remains my best friend today. They made me read the book "Lords of Chaos" [a book by Michael Moynihan and Didrik Søderlind originally published in 1998, detailing the rise of the black metal scene in Norway between 1990 and 1993, centered around the Helvete store in Oslo, ed.] and gave me stacks of CD's to listen to every jam. It was like homework. This week you listen to this and next week we expect a new song out of you that sounds like that. Then I left to work for a mining company up north and that's where I started Artep. When I came back to Vancouver I went to audio engineering school and recorded Grimbane's first demo as I needed a full band to use as my school project. I also kept adding new ideas to Artep and really started thinking about finding members or at least live session members to make Artep a little better known. Obviously, it took time and a lot of work but eventually I found the right people for Artep.

Why symphonic black metal? I love all kinds of music but my passion for symphonic black metal constantly grows. I love the sound of it, the theatrics, the cheesy fire and corpse paint: ALL OF IT. It's a package deal for me, the music and theatrics cannot be separated and it is a great feeling to write and play live shows of music you love. The only thing I wish is that there wasn't so much elitism between symphonic and traditional black metal. I like the raw stuff as well. Why can't I appreciate both? Why does symphonic black metal have to have perfect production? Is it because of the example that Dimmu Borgir set? Why does raw black metal have to have the shittiest production possible, something that sounds like the band was playing somewhere in a canyon and some idiot stood there secretly recording it with a memo tape recorder? Not to mention the dress code - if you're symphonic black metal, you are expected to look gothic or pretty... All of these rules are making me sick. Fuck them, I go by no rules!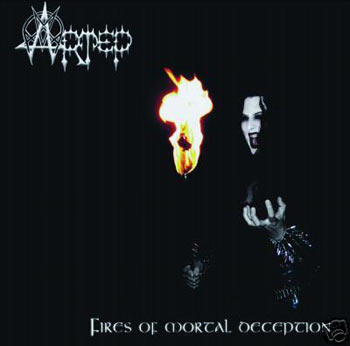 Prior to forming and fronting your own band, you were the bassist in a local black metal act called Vanquished. They have released an EP and three full lengths to date. Were you part of the band until the 2005 release "Black Northern Storm" - in what ways has the experience with Vanquished helped you in Artep?

I started Artep while still playing in Vanquished. The experience with Vanquished helped me recognize that when going on tour, things should be well promoted and planned ahead of time. It is not a good enough reason to go on tour because you want to look cool and some other band invited you. The tour should first be demanded by your fans. When enough interest is acquired, it is then worth it to go. I have nothing against playing for two people and the bartender, but to travel thousands of miles for this is ridiculous. I do not intend to make the same mistake with Artep. We will wait until we have grown and been around for a while before we invest a lot of money into a tour. Right now we are still in the infancy stage. We have just released our first full length. It is not even a collective writing effort and the band cannot be judged by this alone. All work on "Thy Will Be Done On Earth As Is Done in Hell" is solo work written by me prior to the joining of all recent members. Our next album is a collective effort of all members in the band and will more accurately portray the band and its future. We are just about done our new album and anticipate releasing it sometime in 2011.

You formed Artep (your first name in reverse) in 2006 together with Jaron Good. You went through a number of bassists and drummers until finding a stable line-up. What were some of the other difficulties you had to juggle to get Artep functional and working to its fullest potential?

Actually, Artep began as a solo project. I recruited Trevor 'Lord Goatesque' King as the drummer and later also vocalist, keeping only some of the vocal parts myself because I prefer a strong male voice rather than female voice as the lead vocalist. Our bass player Tyler 'Tarot' Skode joined in 2010. Although he was a guitarist, he liked our material enough to lay down the guitar, buy a bass and all new gear to become our bass player. The next issue was jam space. At $65 for 3 hours, plus spending an hour of that on setting up all of our gear every time we jammed, it was impractical. So we ended up setting up permanently in my home studio. I sound proofed it the best I could on my budget, moved my stuff out of the way, bought a PA system and we now finally had a permanent jam spot.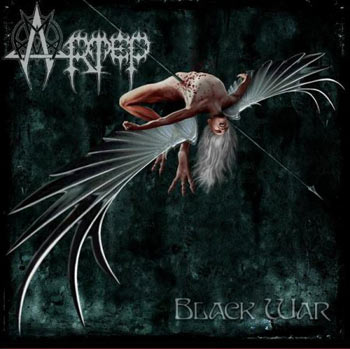 At this time you were also studying audio engineering at the Art Institute Of Vancouver. In what ways has this expertise helped you improve Artep and its musical output?

Going to school for sound engineering was a big mistake. In one way it was great as I learned a lot about music theory, advanced recording programs, music business, proper song structure etc. but it was also time wasted because instead of following my passion for music and doing something I love. I was stuck at school leaving little time for all else. Now you can just take a few lessons and learn how to use a basic recording program over the weekend. It also cost a fortune. It is not lost though. I write sound tracks for a local horror film company and sometimes I record bands who I think could use a little help but don't have the money to go into a studio to record. I don't make any money on it, I do it just to help out because I know what it feels like to work hard for something you love and be stuck because of finances.

The first demo "Fires Of Mortal Deception" was released independently in 2007. The band was only active for a year, but the arrangements of the compositions were already quite promising. How were the reactions to this demo? Did it open up a lot of possibilities for the band at that time?

Yes, this is when people started being interested in playing in the band and what made the band what it is today. Without that demo the band would still be a solo project. The reactions were great. People couldn't believe how good it was for a first demo and I got enough attention to get the wheel spinning for Artep. I released "Fires of Mortal Deception" as a demo in the hopes of finding permanent band members who have similar tastes in music and like where Artep is headed. The first Artep live show was booked before there even was a line-up and I had to quickly find a session bass player and drummer. I was lucky to always have found very talented musicians who were able to learn all 5 songs in a short time. It was not until 2007 that I found Jaron 'Vultyrous' Good to fill in as a full-time guitarist and vocalist. I have been in contact and trying to set up a meeting with Maelstrom (Kris DeBoer of Infernäl Mäjesty) since 2007, we did not manage to meet until the end of 2008.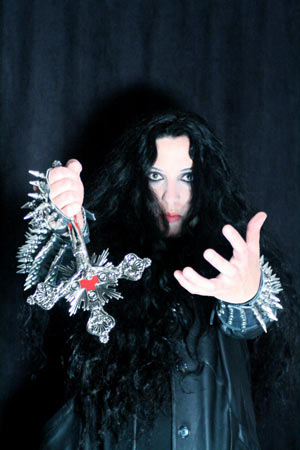 Your second independent release, the EP "Black War", followed in 2008. It featured two new tracks along with a re-recorded cut with the track 'Antichrist'. It was once again recorded at Artep Audio Inc. with a mastering job done by Andy Larocque (King Diamond, ex-Death) at Sonic Train Studios in Varberg, Sweden. How was it working with a man of stature and legend like Larocque?

This mini CD was meant as a promotional CD to be sent out to labels in order to help with the financial and promotional side of the full length CD release. I also sent out about 400 of them to reviewers and radio stations. I sent it to at least a hundred labels - big and small, I didn't care, all metal labels got it, from Candlelight and Nuclear Blast, to very small underground labels who are just starting out, all over the world. I recorded it in my home studio because I did not have enough money to go record anywhere else. I did however inquire about the rates of various metal engineers/producers including some locals: Devin Townsend, Chicken and, just out of curiosity, I even emailed Fredrik Nordström at Studio Fredman, Andy Larocque of Sonic Train Studios and Maor Appelbaum for mastering. I did not expect to have the money to be able to afford them but just wanted to fantasize a little perhaps for the future and inquire anyway.

The idea of Andy Larocque actually stemmed from my L.A. friends Monica and Jerry of the band Sothis. They have worked with Andy to produce their album and I was curious what that would cost. All of the quotes I received were astronomical and not feasible for a band just starting out. Andy was the only one willing to work with my financial situation. I was going to borrow the money to pay him to do the full production as he was offering quite a good deal, but in the end I could not subject him to working with the files I had as they were of extremely shit quality and I did not want to ruin any chances I had to work with him again in the future.

This year saw the release of Artep's proper debut "Thy Will Be Done On Earth As Is Done In Hell" through Bleak Art Records. As before you recorded at Artep Audio Inc. and Andy Larocque (King Diamond, ex-Death) was recruited to complete the mastering process. How is the contract with Bleak Art Records working out for the band?

Working with Bleak Art Records is a great introduction to how a great label works. Here is a small label that will stop at nothing to do the best he can for his bands. He really works hard for very little and, in my opinion, this label will grow very quickly in the future because he has what it takes to be successful. All he needs are bands who work just as hard as him to back him up and I hope Artep contributes its share in this.


Andy was amazing. I sent the files over and told him that I have mixed them myself. He can feel free to ask me to remix them properly or whatever he wanted as I do not know what the procedures are for mastering. He gave me instructions and requested all the changes necessary to make the shit sound a little decent. He was patient enough to listen to the files after every change I made and tell me what else needs to be turned up etc. He definitely saved the day or it would have been unlistenable. I admire his patience because you need a lot of that to work with what he had to work with.

You have your own studio with Artep Audio Inc. Besides using it for your own projects, have you been able to build up a modest reputation for yourself in the Canadian metal underground - are there any projects that you are particularly proud of?

I have worked with quite a few people. The best project I got to work with was Funeral Fornication, Vultyrous' solo project. It was really easy going, simple and professional. The most challenging was Crown of Angmar. What a nightmare... but they deserved some help and it was actually fun to see how much I can make a garbage file sound decent. It was so stressful that it made mixing Artep seem like a fun ride in the park. I have decided to continue helping out, but in the future I will no longer accept garbage files as it is extremely difficult to make something sound good when it starts out like shit in the first place.

I am only an engineer not a magician so if you think I would like your music and need some help, make sure your files are good to begin with or I will want nothing to do with it. I also sometime work with a local horror film company called Creepy Six Films. This is my favourite. I love writing scores and soundscapes, there is no worry about the quality of audio files, it is always perfect.

The music business in deep trouble, there's no doubt about that. Illegal downloading is killing smaller record stores and decent small labels are going bankrupt every single day. Kids apparently no longer value music or a decent all-around package (artwork, pictures, lyrics, liner notes). The sales of physical CD's is falling drastically each year with no sense of recovering anytime soon. What's your opinion on all this, has Artep suffered the consequences from all these events?

I don't see anything wrong with downloading. Mp3's are garbage. They cut all the highs and lows in a frequency spectrum, so that all you are left with is the mids which is exactly what you hear on the telephone. When someone really likes a band, they will go and buy the CD to hear it the way it was meant to be heard, with the full frequency. It also does two other very important things. It weeds out people who are not musicians for the love of music. If you love music, you are not in it for the money and treat it like an expensive hobby. You find it fun and don't care that you are spending all of your money on it because it is your favourite pass time. If people like it and help you by buying your merchandise, that is a big bonus. The second very important thing downloading does is have the bands heard. Everyone gets an equal chance to be heard. No one gets any special treatment because they know someone in the industry. So in my opinion this is more positive than negative, but only time will tell.

On your MySpace page one can see that your hobbies include aviation, firebreathing and hunting. Not exactly hobbies for the average girl, I suppose. It's a typical but inevitable question, but have you experienced any obstacles and prejudices as a girl fronting a black metal band?

Yes, sometimes. When people realize that you are not just a pretty, dumb girl showing off some tits and you can actually keep up to the men, not just skill-wise and with the music writing but also with dedication and all other aspects of being in a band, this prejudice quickly fades. I think I demonstrated this with "Fires Of Mortal Deception". It was a solo project. I could not find members and it took me two years to find a drummer willing to at least quickly record some shitty unrehearsed drum tracks. Despite all of that I still released a decent listenable album that actually got many excellent reviews. I saved every penny to be able to do that alone.

Alright, that's about it for me here. Thanks a lot for talking to us. If there's anything I've forgot to mention or any latest news you want to share, here's the space!

Thanks for taking the time to do this interview and the review of our CD, your support is very appreciated.

Info: http://www.bleakartrecords.com/
Booking: http://www.myspace.com/artepmetal



Masterful Magazine - http://masterful-magazine.com