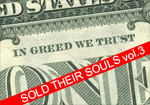 In our ongoing investigation of deceptive and outright fraudulent extreme metal acts, we pull the rug under a handful of established outfits that don't even seem to bother hiding that they are after your money first, artistic integrity a distant second - an audience satisfaction not even registering. The more we pull away the blinds the more obvious these practices become. Maybe your favorite band is in here, maybe your life-long inspiration only cares about the dollars/euros you're giving him/her? Don't be fooled, there are plenty of honest, hard-working metal bands everywhere in the scene. It's just that these money-hungry, artistically vacuum units make it difficult for everybody involved. These bands stopped caring, they lost the passion and fire. In short:
they Sold Their Souls...
we managed to write something
"Iänkaikkinen, pysyvä, muuttumaton pimeys" (2013)
When grown men (and women) paint their faces, sport inverted crosses and spent more time acquiring the right wardrobe than they do writing and rehearsing, I can't help but crack a smile at the ridiculousness of the endeavour. Arsonist Lodge, who undoubtly admire the Norwegian churchburners of the '90s, are however a solid act within this genre. As you can probably guess this is another one-man...
"Ov Qliphoth and Darkness" (2013)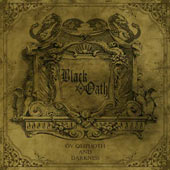 What a pleasant surprise. I'm not familiar with this band's debut record from a couple of years ago, but if this record is any indication it is at least a curiosity worth seeking out. Italy has always had a knack for the theatrical, and this band is no different in that regard. Atmosphere, so often lacking in modern extreme metal albums, is something that oozes from every pore of this record. ...
the newest interviews
new stuff from us
Wouter Roemers

I had some material done already before the demise of Lord Belial. Some of the material was actually intended for the next Lord Belial album, but since we disbanded I changed around all of the ideas into new songs.
news bloody news
2012-06-20




Devourment has entered the studio to record their new album and first for new label, Relapse Records. The band is tracking at Mana Recordings in St. Petersburg, FL with legendary death metal icon Erik Rutan . The album promises to be their heaviest, most crushing release to date and will see an early 2013 release. Tentative song titles include "Fucked With Rats" and "Fifty Ton War Machine".
Devourment frontman Mike Majewski commented on the upcoming record "This will be the deepest album we have done for sure. Definitely expect the intensity, but also more thought out song structures. I would say a bit of a throwback to old school brutal bands, but with the signature Devourment elements."
www.relapse.com/label
www.facebook.com/DevourmentOfficial

added by: Andrzej
source Relapse

there have been no comments yet! Be the first to do so.



Masterful Magazine - http://masterful-magazine.com