we managed to write something
"Narcotic Wasteland" 1cd (2014)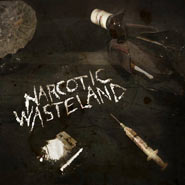 I suppose it was fucken inevitable that Dallas Toler-Wade would eventually grow tired of playing second fiddle to Colonel Sanders. That metal attracts drug addicts, felons and criminals is old news – so what better than to combine the two? So yeah, Narcotic Wasteland is a death metal band from South Carolina that sings about substance abuse. How very fucken original… Is any of this shit suppos...
"Victim Of Yourself" 1cd (2014)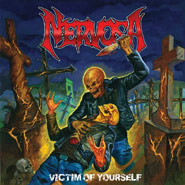 No. Contrary to fucken popular belief I don't hate thrash metal. The fact is just that a load of terrible fucken crap is released under the banner of retro-thrash metal. If you're happy with some band just sounding like your favorite band, knock yourself out – but I fucken demand quality in my music. So after years and years of submediocre crap on piece of shit labels big and small, leave it...
the newest interviews
new stuff from us
Wouter Roemers

I had some material done already before the demise of Lord Belial. Some of the material was actually intended for the next Lord Belial album, but since we disbanded I changed around all of the ideas into new songs.
news bloody news
2012-05-30




A song from the upcoming Mantas "Death By Metal" collection has been released online at this location: www . The track "Evil Dead" is taken from the band's first ever 1984 demo, recorded in the basement of death metal legend, pioneer and groundbreaker Chuck Schuldiner. Death By Metal is the next chapter in Relapse's Death reissue campaign, compiling Chuck Schuldiner's pre-Deathmaterial from his first band Mantas into one deluxe collection containing the group's first two demos and a rehearsal.
This marks the first time these recordings have ever been officially collected into one fully authorized compilation and legitimately available since their original release as the Death By Metal demo tape (1984)! A trailer for this face-ripping collection is available for viewing at this location www
www.facebook.com/MantasOfficial

Death By Metal Tracklisting:

Disc 1

Death By Metal (1st Version) Demo
1. Legion Of Doom
2. Evil Dead
3. Mantas
4. Death By Metal
5. Power Of Darkness

Death By Metal (2nd Version) Demo
6. Legion Of Doom
7. Power Of Darkness
8. Death By Metal
9. Evil Dead

Rehearsal Early 1984 - Rehearsal
10. Legion Of Doom
11. Mantas
12. Death By Metal
13. Evil Dead
14. Rise Of Satan

Disc 2 (Deluxe Edition Only)

Emotional Rehearsal Demo 1984 - Rehearsal
1. Legion Of Doom - Take 1
2. Legion Of Doom - Take 2
3. Legion Of Doom - Take 3
4. Evil Dead - Take 1
5. Evil Dead - Take 2
6. Mantas - Take 1
7. Mantas - Take 2

Live at Knights Of Columbus Hall, Orlando, FL 09/01/1984
8. Legion Of Doom
9. Zombie
10. Demon Flight
11. Death By Metal
12. Evil Dead
13. Power Of Darkness
14. Black Magic
15. Evil Chuck Solo
16. Beyond The Unholy Grave
17. Poison

added by: Andrzej


there have been no comments yet! Be the first to do so.



Masterful Magazine - http://masterful-magazine.com