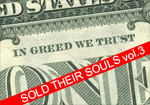 In our ongoing investigation of deceptive and outright fraudulent extreme metal acts, we pull the rug under a handful of established outfits that don't even seem to bother hiding that they are after your money first, artistic integrity a distant second - an audience satisfaction not even registering. The more we pull away the blinds the more obvious these practices become. Maybe your favorite band is in here, maybe your life-long inspiration only cares about the dollars/euros you're giving him/her? Don't be fooled, there are plenty of honest, hard-working metal bands everywhere in the scene. It's just that these money-hungry, artistically vacuum units make it difficult for everybody involved. These bands stopped caring, they lost the passion and fire. In short:
they Sold Their Souls...
our voice
killing the myths...


Masterful Magazine - http://masterful-magazine.com